Press release
Greening: step up funding in Kuwait to save lives in Syria
Justine Greening calls upon the international community to provide significant new funding for the Syria crisis.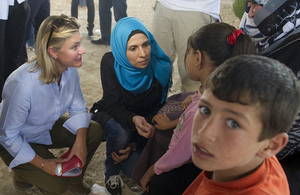 The Syria humanitarian crisis will escalate sharply unless the international community steps up with significant new funding at a major United Nations pledging conference in Kuwait this Wednesday, International Development Secretary Justine Greening warned today.
The Kuwait conference is a chance for the international community to provide vital financial support to millions of Syrians in 2014. The UN's current appeal for $6.5 billion is its largest ever. Justine Greening is calling on European, Gulf and other international leaders to make good on existing pledges and to ensure new funding is sufficient to meet future needs.
The call comes as the UK today announces £30 million specifically to help Syrian women and children caught up in the conflict. This is the final allocation of the £500 million the UK government has pledged to date in response to the Syria crisis. That means the UK has now delivered on all of its funding promises and can focus solely on meeting future needs at the Kuwait conference.
Justine Greening said:
"A political solution to this conflict remains critical and the Geneva II talks are key to that. At the same time, we must not lose sight of the desperate daily struggle to meet humanitarian needs.
"This is an unparalleled crisis and the world needs to respond accordingly. Countries need to show they are ready to help meet the shortfall on the UN's biggest appeal ever. Governments must make sure that all the money they have already promised has been delivered and everyone should be ready to make significant pledges. The world cannot risk failing a generation of Syrians.
"For millions of ordinary Syrians, these pledges will mean the difference between life and death."
In December, the UN launched an appeal for $6.5 billion to meet needs inside Syria and in the region for 2014, making it the largest humanitarian appeal in the organisation's history. But with over 11 million Syrians already in need of assistance and that number set to rise this year, so far international commitments have fallen well short.
Justine Greening urged the international community to:
ensure they send delegates of a sufficiently senior level who are prepared to make significant pledges, in line with growing needs
make good on all existing funding promises in advance of the conference, so the focus in Kuwait is on future needs and existing promises do not get repackaged as new commitments
put funding through recognised UN and international NGO channels to ensure a co-ordinated response
speak with one voice in calling on all sides in the conflict to comply with international law and provide unfettered humanitarian access to aid agencies.
The final £30 million package announced today will focus on supporting women and children, who currently make up over 75 per cent of Syrian refugees receiving humanitarian aid. It includes the provision of safe spaces for Syrian women and children, both within Syria and in Iraq, monthly food assistance including fresh food vouchers and dry food rations and funding to address the health and sanitary needs of thousands of Syrian women and girls in Jordan.
Notes to Editors
More information on the Second International Humanitarian Pledging Conference for Syria is available here.
The UK has now allocated £500 million to help those affected by the conflict. This is the UK's largest ever response to a humanitarian crisis. It is providing food, medical care, shelter and relief items for over a million people including those affected by the fighting in Syria and to refugees in Lebanon, Jordan, Turkey and Iraq.
More details on the breakdown of how this aid is being delivered can be found here
Three quarters of the Syrian population is expected to require aid in 2014.
The Emir of Kuwait and UN Secretary General Ban Ki-moon will co-host the pledging conference on 15 January in Kuwait, a week before the Geneva II political talks begin.
The UN multilateral appeals for 2014 – 1 for needs within Syria, and 1 for needs within the region – were published on 16 December 2013. These cover the financing needs of the UN and of NGOs who are part of those appeals. They total $6.5 billion for 2014, up from $5.2 billion for 2013.
Currently, half the pre-crisis Syrian population is in need: 9.3 million within Syria, and 2.2 million refugees in neighbouring countries. The UN predicts that, in 2014, 9.3 million people will still be in need within Syria; and that the number of external refugees will rise to 4.1 million, with a further 2.7 million in need in host communities.
General media queries
Follow the DFID Media office on Twitter - @DFID_Press
Published 13 January 2014