Authored article
Helping the people of Syria in their time of need
Secretary of State for International Development, Justine Greening, writing on the impact of the humanitarian crisis in Syria. Originally published in The Muslim Weekly, 9 August 2013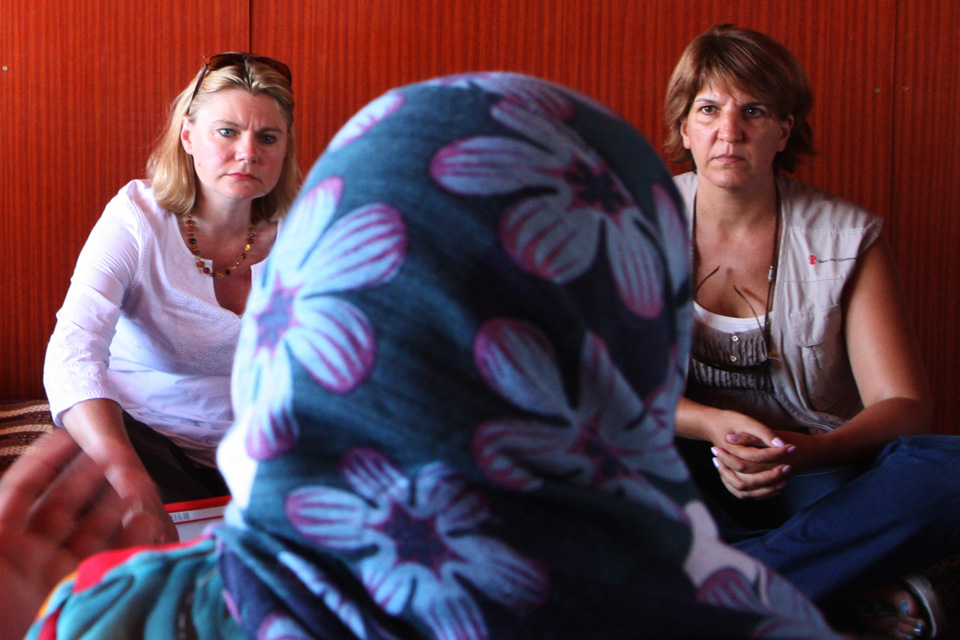 I know Muslims all over the UK will have spent the month of Ramadan fasting, so I would like to take the chance to wish 'Eid Mubarak' to everyone celebrating this weekend.
Ramadan is a time of reflection, when Muslims think of those less fortunate than themselves the world over. I'm sure many of you will have been thinking, in particular, of the suffering of those caught up in the Syria crisis, with many zakat donations going to help Syrians in need.
My thoughts at this time have also been very much with the millions of ordinary Syrians who have been injured or driven out of their homes by the continuing violence. I think, as well, of those people in neighbouring countries who have been so generous in opening their homes and communities, often to total strangers.
At the start of Ramadan, I went to Lebanon to see for myself the effect that more than two years of fighting has had, not only on Syria but on the region as a whole. I spoke to families who had fled their homes with nothing and heard some truly harrowing stories of suffering and hardship.
The numbers are shocking and continue to mount. The UN estimates that over 100,000 people have now died and over 4.25 million have fled their homes inside Syria. Refugee numbers in neighbouring countries are now close to 2 million, which also creates pressures on host communities.
I am particularly worried about what the fighting means for girls and women, many of whom now find themselves at greater risk of violence and exploitation. An estimated one in ten female refugees has experienced some form of violence. Children are among the most at risk, with over 50 per cent of refugees under 18 years of age.
As I saw, both in Lebanon, and earlier this year when I met Syrian refugees in Jordan, behind each one of those numbers is an individual human tragedy. That is why I am determined that the UK's immediate priority in this conflict has got to remain squarely on providing humanitarian assistance.
Since the start of the fighting, the UK has been at the forefront of the humanitarian response. Our funding has helped to provide food, water, medicine and shelter to hundreds of thousands of people.
Just over a month ago, David Cameron stood up at the meeting of G8 leaders in Ireland and announced that the UK will be providing a further £175 million for the Syrian crisis.
That is the largest single funding commitment ever made by the UK in response to a humanitarian disaster. It more than doubled our funding, bringing the UK's total commitment to £348 million. This is the UK's biggest response to a single humanitarian crisis.
This reflects the size of the crisis – and the scale of the suffering. It is a signal of just how serious this Government is about doing everything we can to alleviate the suffering.
We have also consistently pushed other donor countries to ensure that they have stepped up and played their part, and we will continue to call on them to honour the funding promises they have made.
We know that thanks to the UK, over 285,000 people a month are getting food. Our support is helping to get water for almost 1 million people and almost 300,000 medical consultations, helping people across Syria and in neighbouring countries.
Our support is also providing school materials and training teachers to ensure that refugee children don't miss out on an education. And we are providing support kits for new mothers, reproductive health services for refugee women and financial support to vulnerable women at risk of coerced marriage.
So we know that help is getting through, that it is saving lives. But we must also recognise that it isn't reaching all those who need it, all of the time.
The Syrian Government continues to impose bureaucratic hurdles on humanitarian agencies which must be lifted. Humanitarian workers are also facing interference and threat of violence. This has to stop. All sides to the conflict must recognise and respect that.
We must also start thinking about meeting long term needs. At the June launch of the new UN-led Appeal, Baroness Amos, who leads the UN's Syria response, estimated that two years of conflict have set back Syria's development by two decades.
Increasingly, we are providing long term funding to help aid agencies plan better and maintain existing key infrastructure and services. That means ensuring things like health and education services keep running and water and sewage infrastructure doesn't fail.
Ultimately, the international community must do more to end the crisis in Syria and move towards a political resolution. Until then, humanitarian workers must have free access to get to where they are needed and get on with the job they are there to do, without threat to life, while the international community must provide them with the funding they need to do it.
The UK will keep pushing for this on the international stage. Your support for the charities and organisations doing such vital work in and around Syria is making a real difference. Together, we will continue to stand alongside the people of Syria during their time of need.
Click here for the latest updates on the UK response to the crisis in Syria
Published 9 August 2013