Government response
UN reports Syria death toll now above 100,000
Justine Greening responds to UN report on 100,000 deaths in Syria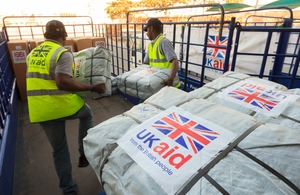 Responding to the United Nations report of deaths reaching 100,000 in the conflict in Syria, International Development Secretary Justine Greening said:
"The deaths of 100,000 people as a result of the conflict in Syria demonstrate the scale of the ongoing tragedy and the desperate need for real action from the international community.
"The British Government continues to lead the international response with medical help, food, shelter and clean water. Other donors must now honour their funding promises and it is time that all parties to the conflict allow humanitarian access to all areas of Syria.
"I call on all sides to respect the work of humanitarian agencies and to move towards a political resolution to this crisis."
More information
For full details of the UK's Syria crisis humanitarian response, please see: Syria crisis: Latest updates on UK aid
For all news on how the UK government is responding to events in and around Syria, please visit: UK and Syria
Published 25 July 2013