Government response
New numbers for displaced people inside Syria
Statement from International Development Minister Alan Duncan on new UN figures for numbers affected inside Syria by the crisis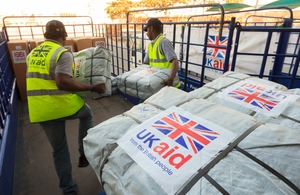 The UN has confirmed that there are now approximately 9.3 million in need inside Syria, up from 6.8 million, and that there are approximately 6.5 million people who have been driven out of their homes but who remain inside Syria, up from 4.25m.
International Development Minister Alan Duncan said:
Aid is still not getting through to millions inside Syria who are in dire need because aid workers are coming under attack and life-saving medical deliveries are being blocked.

As a result the human impact is taking a shocking turn for the worse. Syrian children inside the country are now starving and Polio has returned.

Never before has access for aid agencies been more critical. This is not asking the impossible. There are practical, meaningful steps from all sides – from agreeing safe supply routes to pauses in the fighting – that will save lives in the short term while moving towards a longer term solution.
Additional information
The UK's response to the Syria crisis is the largest it has ever made to a humanitarian crisis.

It has committed £500 million in humanitarian assistance, with £150 million already provided to help people inside Syria, including in opposition held and contested areas.

This includes regular food supplies, clean water, cooking sets, blankets and medical help for more than one million people across the country.

The UK has called on all sides to the conflict to agree practical steps to improve access for humanitarian agencies, including:

agree key safe humanitarian routes inside Syria;

agree on a system of pauses in the fighting for aid delivery and evacuations;

agree go-betweens for the main parties to resolve barriers to access;

for the regime to lift bureaucratic obstacles, including on visas, customs approvals and registration for aid agencies;

for the regime to agree to cross-border assistance where needed.
General media queries
Follow the DFID Media office on Twitter - @DFID_Press
Published 5 November 2013