News story
G8 Innovation Conference
The conference on 14 June focused on how innovation can be encouraged and where the next big opportunities are for business innovation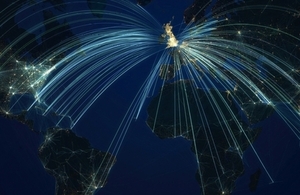 The Innovation Conference brought together today's leading innovators and thought leaders across disciplines, from the G8 and beyond. From public policy to science and technology, this conference facilitated conversations that influence the dialogue throughout the UK G8 Presidency.
High profile speakers included:
David Willetts, BIS Minister for Science and Innovation
Sir Richard Branson, who discussed entrepreneurship and innovation
Ron Dennis of McLaren who talked about innovation in F1 and how technologies spin out into other sectors
Daphne Koller, founder of Coursera, who discussed online education
Zaha Hadid, architect
Thomas Heatherwick, the designer of the new London bus, discussing innovation and creativity
Delegates included around 250 leading international entrepreneurs, researchers, scientists, creatives and policy makers from more than 22 different countries.
You can review events from the G8 Innovation Conference here
In the afternoon, G8 Innovation Conference delegates split into small groups and visited innovation centres of excellence. They heard from world leading innovation practitioners and reflected and discussed on how new approaches can address current challenges.
These included:
Tech City in East London
The Big Innovation Centre
Open Data Institute
Royal Academy of Engineering
Overall, the event set out areas where the UK is a global innovation leader in entrepreneurship, creativity, science and technology and demonstrated the UK's ability to provide the conditions for the cross fertilisation of ideas and inter-disciplinary collaboration. As a result, the event inspired international innovators, and enabled UK businesses and innovators to find international partners to enable them to collaborate and develop new ideas in response to global challenges.
You can watch other videos through UKTI's YouTube channel
Follow UKTI Twitter @UKTI and join the conversation using #G8IC
Follow the Twitter channel for the UK Presidency @G8 or follow #G8UK
Read more about the UK's G8 Presidency
Join the discussions in UKTI's LinkedIn Group
Find UKTI's photos on Flickr
Find G8's photos on Flickr
Partners
The Conference is organised by UKTI in partnership with BT and Cisco. Contact UKTI for advice and support investing in the UK.
Published 14 June 2013
Last updated 16 June 2013
+ show all updates
Amended after the event
First published.