News story
Further financial help given to property owners affected by HS2
Compensation and assistance package announced for property owners along the London to Birmingham route of High Speed 2.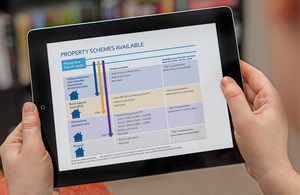 An extensive package of compensation and assistance for property owners along the London to Birmingham route of High Speed 2 (HS2) was introduced by Transport Secretary Patrick McLoughlin today (16 January 2015).
From today, owner-occupiers of homes and small businesses between generally 60 metres and up to 120 metres from the line in rural areas can submit an application to HS2 Ltd to purchase their property at the full, un-blighted value under the voluntary purchase scheme. This is the value of the property as if there were no plans for HS2.
As an alternative to the voluntary purchase scheme, these eligible property owners will also have the option to accept a cash offer of 10% of that same value and stay in their homes and businesses. This will support people who want to remain in their community.
Those beyond the 120 metre boundary but within 300 metres of the line in rural areas will, following Royal Assent of the Phase One HS2 Hybrid Bill, be able to apply for a homeowner payment ranging from £7,500 to £22,500, which will enable them to share early in the benefits of the railway.
Eligible owner-occupiers living any distance from the line of route can now apply to the need to sell (NTS) scheme, which also pays the un-blighted value to people with a compelling reason to sell their property, but who have been unable to do so – other than at a substantially reduced price – due to HS2. The criteria for the NTS scheme is more relaxed than the exceptional hardship scheme (EHS) it replaces and, unlike the EHS, will consider applications from those who may not need to move immediately.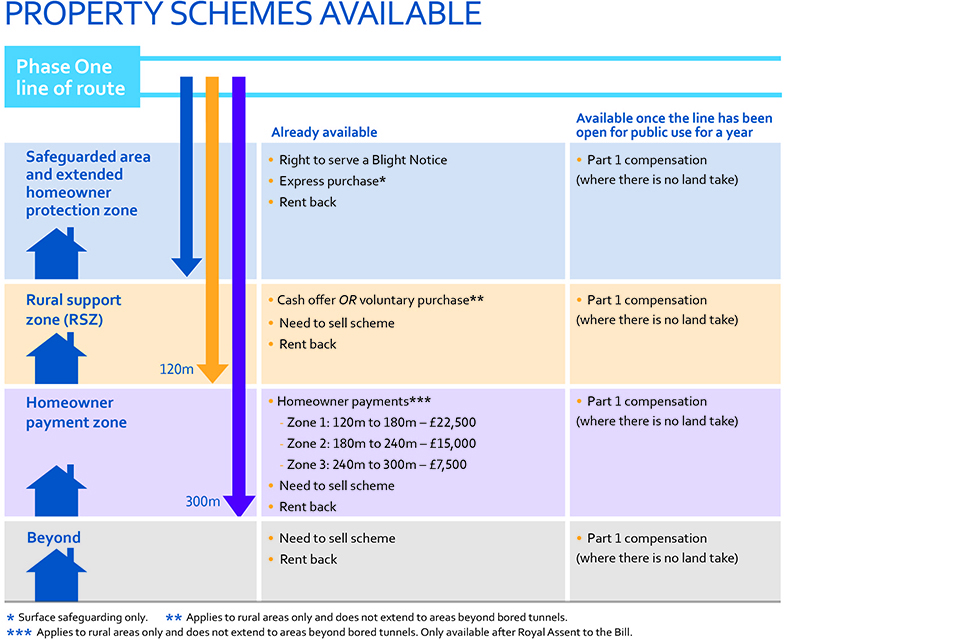 The schemes go well beyond legal requirements and offer an effective means of helping those along the route of Phase One of HS2.
Today also sees HS2 Ltd launch a residents' charter to help ensure that residents are treated in a fair, clear, competent and reasonable manner. The Residents' Commissioner overseeing the charter has today been confirmed as Deborah Fazan. Deborah has considerable experience as a commissioner and property advisor on transport and construction schemes. In her new role, she will ensure that HS2 Ltd meets its commitment to the communication standards and personal support set out in the new charter.
Transport Secretary Patrick McLoughlin said:
This comprehensive package of compensation and assistance is looking after those people who live along the HS2 route while balancing our responsibilities to the taxpayer. People at the heart of this vital new railway will also benefit from HS2 Ltd's new residents' charter and the appointment of the Residents' Commissioner, who will ensure that the commitments in the charter are upheld. Building HS2 will create extra space on our rail network, create jobs and support business and is a vital part of the government's long-term economic plan.
Simon Crowther, HS2 Ltd's Land and Property Director said:
This new transport link will bring significant benefits for the whole country but it is important that those living near to the railway are able to easily access the financial assistance that the government is offering. The residents' charter sets out our commitment to making that happen. We will be working closely with the new Residents' Commissioner to deliver the standards required, ensure that people are treated fairly and help them understand what they are entitled to.
HS2 Ltd is today writing to those people who may be eligible for the voluntary purchase, cash offer and homeowner payments schemes.
Today's package supplements the express purchase scheme which has been available to those within the safeguarded zone (generally within 60 metres from the proposed line) since April 2014. This existing scheme gives those people a streamlined process for selling their property to the government at the un-blighted value, plus 10% (up to a maximum of £49,000) and reasonable moving costs, including stamp duty and legal fees. As of end of December 2014, 60 properties have already been bought under this scheme at a total cost of £54.2 million.
This is the final outcome of 2 consultations:
At the end of December 2014 HS2 Ltd had acquired 132 properties under the EHS for Phase One of the route, 41 under EHS for Phase Two and 60 under statutory blight for Phase One.
The total cost of the 233 properties acquired is £157.4 million.
HS2 and major projects media enquiries
Press enquiries 020 7944 3021
Out of hours 020 7944 4292
Switchboard 0300 330 3000
Published 16 January 2015