News story
Foreign Secretary visits the Far East
Foreign Secretary Philip Hammond is visiting Japan, Singapore, South Korea and China this week to boost the UK's relationship with the region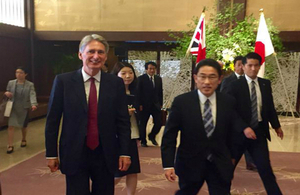 News and Updates
China
In his first official visit to China since becoming Foreign Secretary, Philip Hammond has delivered a keynote speech about China's pivotal role in working with the UK and others towards future peace and prosperity. The Foreign Secretary also visited an Airbus factory in Tianjin.
The Foreign Secretary met State Counsellor Yang Jiechi for talks covering foreign and security policy issues, global cooperation on health and a potential climate deal in Paris in November. He also met with Minister Lu Wei to discuss cyber security.
South Korea
In Seoul, the Foreign Secretary called on South Korean President Park Gyeun-hye and held meetings with the South Korean Ministers for foreign affairs, finance and defence procurement.
The Foreign Secretary also visited the Demilitarised Zone and Gloster Hill Memorial Park to pay his respects to the British servicemen who lost their lives during the Korean War.
Singapore
The Foreign Secretary was in Singapore for the Golden Jubilee celebrations where he represented the UK at celebrations marking the 50th anniversary of Singaporean statehood. During his visit on the country's 50th National Day, the Foreign Secretary underlined the close friendship between the UK and Singapore, and recognised the crucial role of Singapore founding father Lee Kuan Yew who passed away earlier this year.
Japan
The Foreign Secretary started his tour of the Far East in Japan where he met with his Japanese counterpart, Fumio Kishida. They discussed how both countries can contribute positively to global peace and prosperity as well as the growing trade relationship. The Foreign Secretary also met Japanese Defence Minister Gen Nakatani to discuss co-operation on security issues and to support an international system based on the rule of law.
Speeches and press releases
Social Media
You can view our Storify of his visit on social media
Or,
Take a look at the Flickr album for photos of his trip across Asia
For more information, follow us on social media for the latest news and updates:
Published 10 August 2015