Press release
Foreign Secretary begins Far East tour in Japan
Foreign Secretary Philip Hammond arrived in Japan today on the first stop of a Far East tour to boost the UK's relationship with the region.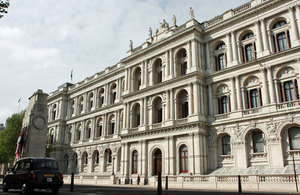 He will meet his Japanese counterpart Fumio Kishida to discuss how both countries can contribute positively to global peace and prosperity, as well as the growing trade relationship. This will include further talks on how to deliver an EU-Japan Free Trade Agreement (FTA) by the end of the year, which will be worth £5billion a year to the UK economy alone.
The Foreign Secretary said:
I'm delighted to be in Tokyo for meetings with my counterpart Foreign Minister Fumio Kishida and others. The UK values highly its strategic partnership with Japan, and the deep friendship between our peoples. Both of our countries have made a significant contribution to global peace and security over the last seventy years, based on our shared values. The UK and Japan have experienced first-hand the impact of Islamic terrorism and have a common interest in tackling this.

Countries like Britain and Japan must play their part in upholding the rules-based international system. I'm proud that the UK is the only country in the world to commit to spending 2% of our GDP on defence, and 0.7% on development. We will keep working together on the dangers we face, and the opportunities we share.
The Foreign Secretary will also meet Japanese Defence Minister Gen Nakatani to discuss co-operation on security issues and to support an international system based on the rule of law.
The next stop on the Foreign Secretary's tour will be Singapore to celebrate 50 years of the UK and Singapore's relationship.
Further information
Published 8 August 2015