Press release
Foreign Office Minister urges dialogue in Venezuela
As violent protests continue in Venezuela, Foreign Office Minister Hugo Swire has called for restraint.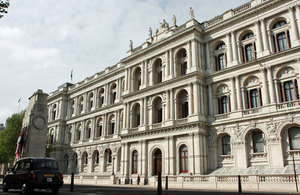 Hugo Swire said:
With protests ongoing in Venezuela since early February, I remain deeply concerned about the situation in the country. I am saddened by the deaths that have occurred, and condemn all acts of violence. It is important that the right to free speech and to protest peacefully are respected, and that those being investigated are afforded due legal process.

I urge all sides to take steps to avoid confrontation, reduce tensions, and create the right conditions for genuine dialogue. A commission of Foreign Ministers from the UNASUR group of countries is in Venezuela to support and advise on dialogue between all parties. I hope that this can play a positive role in helping to avoid violence and promote reconciliation in Venezuela.
Further information
Follow Foreign Office Minister Hugo Swire on twitter @HugoSwire
Follow the Foreign Office on twitter @foreignoffice
Follow the Foreign Office on facebook and Google+
Published 26 March 2014