News story
Alcohol industry takes action to tackle irresponsible drinking
Ministers met industry representatives to agree a series of pledges to tackle the £21 billion a year cost of drink-related harm.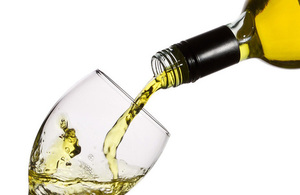 The alcohol industry has responded to the government's challenge to take action to tackle the £21 billion a year cost of drink-related harm.
New pledges have been made as part of the industry's continuing commitment to the government's Public Health Responsibility Deal – building on its progress towards removing one billion units from the market and responsible labelling.
Pledges
Ministers met industry representatives at the Home Office yesterday (7 July) to agree a series of pledges.
These include:
• Producers calling time on super-strength products in large cans;
• Retailers committing to the responsible display and promotion of alcohol in shops and supermarkets; and
• Pubs and bars making sure they stock house wines below 12.5% ABV and promote lower-alcohol products to customers.
Home Secretary Theresa May said:
Alcohol-fuelled harm costs taxpayers £21 billion a year. It is therefore right that the alcohol industry is taking action to help reduce this burden, without penalising those that drink responsibly.

The government welcomes the progress the alcohol industry has made so far in responding to the challenge we set them.

We now look forward to seeing the positive impact of these pledges and continuing to work with industry to explore what else can be done to tackle alcohol abuse.
Real progress
Health Secretary Jeremy Hunt said:
Our Responsibility Deal has made real progress, as the industry is taking one billion units out of the market and has agreed to provide labelling which includes health warnings and unit information.

The new pledges will help people to drink responsibly and make healthier choices.
The drinks industry will also expand successful partnership schemes to the Local Alcohol Action Areas, which were launched by the government in February, and there will be a new initiative to address street drinking.
Initial funding of £250,000 will be provided by industry for alcohol education programmes in schools.
Grants will be available to give 10,000 people a qualification that will help enforce responsible drinking by 2016.
Henry Ashworth, Chief Executive of the Portman Group, said:
UK drinks producers and retailers have a strong track record in delivering programmes of voluntary activity to support government in tackling anti-social behaviour caused by alcohol misuse.

As responsible businesses, we are determined to play our part and have set out a whole new programme of voluntary actions in response to the challenge set by the Home Secretary.

Working in partnership with business is a great way to get positive change happening quickly in towns and cities throughout the UK.
Brigid Simmonds, Chief Executive of the British Beer and Pub Association, said:
It is in everyone's interest to reduce alcohol-related harm, and responsible brewers and pubs are committed to working with the government to achieve real results.

Through our new on-trade pledge, for example, as part of the government's Public Health Responsibly Deal, we have undertaken to encourage lower alcohol products, in pubs, at events and promoted through social media.

It shows that industry can work in partnership with government to make progress.
Miles Beale, Chief Executive of the Wine & Spirit Trade Association, said:
Tackling alcohol-related harm is a key priority for the drinks industry.

By working in partnership with government, producers and retailers have committed to a new and substantial package of voluntary pledges aimed at promoting responsible drinking.

It is especially important that retailers have agreed, for the first time, to produce, promote and maintain good practice guidance on the responsible retailing of alcohol through the Retail of Alcohol Standards Group.

This package is another positive step for partnership working towards building a culture of responsible drinking in the UK.
Range of action
The new pledges agreed yesterday will enhance the wide range of action already taken by the government to tackle alcohol-related harm.
This includes introducing a ban on the worst cases of cheap alcohol sold below the level of duty plus VAT.
The pledges build on the existing alcohol commitments agreed by the industry in the Public Health Responsibility Deal and can be viewed in full online.
Published 8 July 2014