News story
Agency highlights 2015
Looking back at what the Medicines and Healthcare products Regulatory Agency has achieved over the last year.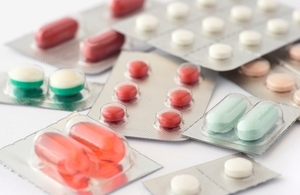 The Medicines and Healthcare products Regulatory Agency is focussed on taking action to protect and promote public health. In addition to our ongoing regulatory work and supporting new treatments and innovation across the medical field, these are a few of our 2015 highlights from across the agency.
Yellow Card Scheme improves medical products
Our scheme, which allows anyone in the UK to report suspected problems with medicines and medical devices, has led to significant improvements. Our Head of Devices John Wilkinson presented at the Patient Safety Congress in July to show healthcare professionals how they, along with patients, helped. As a result of Yellow Card reports submitted to the scheme, a company redesigned and strengthened the hub and fixation of their pen needles used for the administration of insulin, this has lead to a safer product and a dramatic reduction in their Yellow Card reports.
Yellow Card app
In an innovative move to mix digital with healthcare services for an improved user experience when reporting suspected problems with medicines, we worked with the Innovative Medicines Initiative WEB-RADR to develop a free Yellow Card app. You can download the app on the iTunes app store or Google Play for android. The app allows people to report suspected side effects and to stay up to date with the latest safety alerts on specific medicines.
George Freeman MP introduces Yellow Card medicines reporting app
#ThinkPatientSafety
We've worked closely with medical safety officers at NHS England on our joint #ThinkPatientSafety project as well as engaging with the public via social media on the importance of reporting problems with medical products. See our Storify board on how our story has developed so far proving that patient safety really is a team effort.
Human Factors
As well as being a highlight for us, the human factors conversation has been a hot topic for many key players in the health industry this year including patients. It's a concept that puts the patient at the heart of medical products. We have created a Human Factors Task Group to build a better understanding of human factors in the design, regulation and use of medical devices. Together, we have begun to develop human factors guidance, which has been popular on social media. See our Storify board to see why human factors is important.
Supporting innovation: Early access to medicines scheme
We have continued to work with businesses, partners and academia to support them through the regulatory system for novel products.
This has been a successful year for our early access to medicines scheme (EAMS). We have awarded 13 promising innovative medicines (PIM) designation and have seen 5 scientific opinions published, including nivolumab for melanoma and lung cancers, pembrolizumab for melanoma sacubitril and valsartan for heart failure and osimertinib for lung cancer. In addition to our collection of 8 case studies highlighting how we've supported companies with novel ideas to navigate the regulatory system, we've just added our first case study on EAMS. It shows how the scheme enabled 500 UK patients to benefit from a new skin-cancer drug.
Annual lecture 2015 with Dan Hartman, Gates Foundation
Dan Hartman, Director of the renowned Gates Foundation, presented the regulatory issues in the developing world in our 2015 Annual Lecture along with the foundation's work to protect public health.
Supporting response to Ebola crisis
We worked quickly to help combat the Ebola crisis. In addition to other activities, we prioritised review of clinical trial applications and approved 3 clinical trials for new Ebola vaccines. The National Institute for Biological Standards and Control (NIBSC) was asked by the World Health Organisation (WHO) to produce 2 types of Ebola reference reagents. The first is run alongside patient samples to detect Ebola infection, the second measures Ebola antibody levels following infection, or following immunisation with candidate vaccines. Both were endorsed as the global standards for use in laboratory tests by WHO and are now available to the scientific community.
Cracking down on illegal sales of medical products
We're always working behind the scenes to stop illegal sales of medicines and medical devices. The vast majority of these sites are selling illegal and dangerous 'lifestyle' medicines such as those for erectile dysfunction and slimming pills. 2 of our major operations this year were Operation Daniel and Operation Pangea. We seized a record £15.8m worth of counterfeit and unlicensed medicines leading the way in the global #OperationPangea.
Our enforcement team has been out and about explaining the dangers of buying fake medical products at a number of events including the Girls Day Out Show in Scotland in November and the British Dental Industry Association (BDIA) dental showcase in October. We even confiscated a bunch of non-compliant dental devices from a stall at the showcase. Our investigations have received widespread coverage including in BBC news for the gang that was sentenced for their £10m fake Viagra scam.
It's great news that as as part of an EU-wide common logo scheme, the public can now check if a website can legally sell medicines online.
CPRD data used in dementia study
The Clinical Practice Research Datalink (CPRD) contains the anonymised medical records of primary care practices and is a representative sample of about 8% of the UK population. This year the data were used, among others, for the largest ever study to examine the statistical association between BMI and dementia risk.
Dementia is a set of conditions caused by chronic brain damage leading to symptoms including memory loss and difficulties with thinking, problem-solving or language. Dementia is one of the biggest single problems facing health services today and a key UK governmental public health priority.
The recent study was led by researchers at the London School of Hygiene & Tropical Medicine and Oxon Epidemiology, and published in the Lancet Diabetes & Endocrinology Journal. The researchers, through analysing CPRD data on nearly 2 million patients, identified that middle-aged people who are underweight (BMI<20kg/m2) are a third more likely to develop dementia than people of similar age with a healthy BMI; conversely, middle-aged obese people (BMI>30kg/m2) are nearly 30% less likely to develop dementia. The study results contradicted findings from some previous research suggesting that obesity increases risk of dementia, and demonstrate the value of the CPRD and the use of electronic healthcare record in research.
Highlighting the benefits of working for the Agency
We are always looking to attract talented people and this year we launched a campaign highlighting what medical assessors do and the difference they make to public health. The campaign aimed to attract people with a medical background considering a career move. Medical assessors play a key role in medicines licensing and post marketing surveillance ensuring medicines are as safe as possible for patients and deliver their intended benefits. As the medicines regulator, MHRA offers a unique experience in the UK and assessors gain an early insight into medical research, new medicines and new uses for existing medicines. We will continue to recruit and develop people with the right skills to deliver our objectives.
Awards
Our Director of Vigilance and Risk Management of Medicines, June Raine, was honoured with a TOPRA Lifetime Achievement Award for having strengthened public health protection for the benefit of all citizens in the European Union and beyond.
Our Finance and Procurement division was shortlisted for a Civil Service Award in the financial management category.
Published 31 December 2015