Case study
Innovation: over 500 UK patients gain early access to new skin cancer treatment
MSD successfully put their advanced new melanoma treatment through MHRA's early access to medicine scheme (EAMS).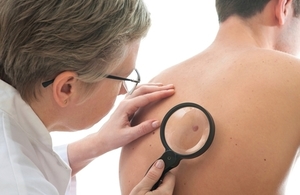 The challenge
Speeding up patient access to new, promising, innovative treatments is a current priority for the UK government, regulatory agencies and the pharmaceutical industry.
MHRA's early access to medicines scheme (EAMS) aims to offer patients with life-threatening or seriously debilitating conditions access to medicines that do not yet have a marketing authorisation when there is a clear unmet medical need.
MSD (known as Merck & Co Inc. in the United States and Canada), works to address unmet health needs through the development of innovative medicines, vaccines, biological therapies and animal health products. Pembrolizumab was being developed as a treatment for advanced melanoma (skin cancer), where MSD had identified an unmet clinical need.
Through EAMS, MHRA has been able to work with MSD to ensure that UK patients with advanced melanoma have been among the first in the world to access the breakthrough treatment, pembrolizumab. This has enabled approximately 500 patients with advanced melanoma with limited treatment options to benefit from the treatment prior to licence and paved the way for accelerated routine access in the NHS.
In June 2014, phase 1 clinical trial data published by the American Society of Clinical Oncology (ASCO) pointed to the significant health improvements exhibited by patients who had been provided with pembrolizumab as treatment for advanced melanoma. These exciting results helped to confirm that pembrolizumab could address an unmet medical need.
However, patients who required the treatment would need access to pembrolizumab in the intervening time between clinical trials completing, when the treatment meets with regulatory approval and is licensed, and when the treatment is finally available for routine use – a process that can often take several months and that can affect seriously-ill patients who cannot afford the time to wait for treatment.
In October 2014, MSD requested that MHRA consider accepting pembrolizumab into EAMS and worked with a series of co-ordinated stakeholders to progress their treatment through the scheme, including: MHRA, National Institute for Health and Care Excellence (NICE), NHS in England, Northern Ireland, Scotland and Wales.
How MHRA helped
MSD was clear about the intrinsic benefits EAMS offered. However, as the first medicine through the 2-step process, there were a number of practical issues that required interaction between MHRA and MSD to ensure that the review was concluded within the expected timeframe. These included:
reviewing pembrolizumab against EAMS criteria to ensure it was a suitable and acceptable candidate at the face-to-face pre-submission meeting
condensing the timelines around awarding the promising innovative medicine (PIM) designation and the assessment of the scientific opinion step, which helped to reduce the overall duration of the process and ensure the right resources were allocated at the right time
offering availability for regular interactions with the EAMS assessment team, to help with data reviews, speeding up analysis and interpretation
agreeing to be flexible and accept summaries of data that MSD was already preparing for their licence application dossier, rather than re-writing and submitting specifically for EAMS, helping to reduce the burden of the submission
clarifying pharmacovigilance criteria and future regulatory requirements.
Ben Lucas, Business Unit Director, Oncology, MSD said:
EAMS undoubtedly accelerated access to pembrolizumab for patients with advanced melanoma and demonstrates a world-leading example of how healthcare agencies and industry can work together to get treatments to patients more quickly.

We're proud of what we achieved: early patient access to our breakthrough treatment, as well as extensive collaboration with MHRA, NICE and NHS England, and industry firsts – in participating in and helping to develop EAMS, and in being awarded the first positive opinion.
The outcome
EAMS has enabled approximately 500 advanced-melanoma patients in the UK to be among the first in the world to benefit from access to pembrolizumab ahead of a European licence, indicating the value of fast-tracking innovative medicines so that they reach patients with high unmet medical need more quickly.
Submission through EAMS accelerated patient access to the treatment by around 4 months. Early engagement of stakeholders through the scheme secured priority scheduling from NICE for review. Important milestone dates include:
10 October 2014: PIM designation awarded
9 March 2015: MHRA issued Scientific Opinion for pembrolizumab through EAMS
17 July 2015: European Commission (EC) granted an EU licence for pembrolizumab which marked the trigger for the closing of EAMS to new patients - existing EAMS patients continued to gain access to the medicine until routine reimbursement
29 July 2015 - first NICE appraisal committee meeting for pembrolizumab in treating unresectable, metastatic melanoma after progression with ipilimumab
7 September 2015 – NICE final appraisal determination (FAD) guidance recommended at the shortened 30 day implementation, down from the standard 90 days
Pembrolizumab was the first medicine to be awarded an EAMS positive scientific opinion by MHRA. The application procedure with MSD helped to identify and resolve some practical issues including data content, appropriate labelling, optimising timelines, clarification of pharmacovigilance requirements and appropriate monitoring and risk management.
Learning these lessons has helped to refine EAMS and to demonstrate that the scheme offers a genuinely accelerated process for patients in the UK to access new medicines that work to satisfy unmet medical need, as well as showing that UK health agencies can offer a very streamlined process that supports early access to critical treatments.
Dr Siu Ping Lam, Director of Licensing, MHRA said:
EAMS is an important step in ensuring patients gain access to innovative medicines as soon as possible, improving health outcomes in patients that urgently need new treatments. MSD's decision to submit pembrolizumab meant that we awarded our first positive opinion ahead of a licensing decision, thoroughly tested EAMS' principles and processes, and learned much along the way.
How can we help you
Contact the Innovation Office to find out more about accessing expert knowledge, guidance and experience that could help you develop ideas and save time and money #HealthInnovation
EAMS aims to give patients with life threatening or seriously debilitating conditions access to medicines that do not yet have a marketing authorisation when there is a clear unmet medical need. Visit EAMS to find out more and how to submit your medicine.
Published 17 December 2015