Case study
Innovation: Queen's University Belfast
MHRA helps Queen's University Belfast bring innovation and regulation together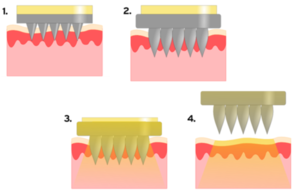 The issue
Transdermal drug delivery is big business - estimated to be worth $32billion worldwide, each year - and is an area of ongoing innovation that is focused on controlling the delivery of small-molecule medicines. Transdermal administration has many potential advantages, including the ability to prolong delivery over several days, improved compliance relative to oral delivery and a reduced side effect profile. Now, Queen's University Belfast (QUB) is taking innovation in transdermal delivery further by preparing for the regulatory framework that will be the final step in bringing innovation to market.
QUB's novel hydrogel-forming microarray patches are showing considerable promise as an effective and safe platform for transdermal drug delivery, as well as minimally-invasive patient monitoring/diagnosis. This unique system, composed of a patch comprising hundreds of tiny projections less than 1mm in height, painlessly penetrates the skin upon application without drawing blood. The individual projections then swell to allow delivery of medicines or capture of skin fluid. Sharps injuries seen with injections are also avoided.
Transdermal delivery is normally limited to low doses of potent small molecules, but this technology is designed to deliver across the skin, for the first time, high doses of non-potent drugs, as well as large molecules, such as insulin, antibodies and vaccines. It has the potential for the development of a diverse range of new medicinal products to meet the varied needs of patients.
QUB is now working to manage this technology through a pilot programme that aims to overcome translational barriers, helping to ensure that regulatory requirements have been considered early on in the product's development, so that when the product reaches advanced pre-clinical testing and clinical trials, developers don't have to spend time making remedial updates to satisfy competent authorities, regulators or funders.
Both the novelty of QUB's proposed transdermal drug delivery system and providing suitable regulatory advice from within the programme posed a number of challenges.
How MHRA helped
QUB and MHRA held a number of meetings where discussions focused on the regulatory and scientific issues posed by QUB's novel hydrogel-forming microarray patches. MHRA helped by:
Reviewing the components of the microarray patch formulation with a particular focus on Gantrez (a main component of the hydrogel-forming microarray patch system under investigation, which has to date only been used in dental products)

Disucssing microbiological control requirements and usability

Advising on development of the industrial manufacturing process

Exploring the likely non-clinical and clinical expectations for a range of medicinal substances.
Dr Stephen Liggett, Research Governance Manager, Research and Enterprise Directorate, Queen's University Belfast said:
The opportunity to discuss the regulatory hurdles with the Competent Authority and to integrate the advice given into the subsequent research programme was invaluable.

One of the main benefits for the University is that the MHRA Innovation Office is seen as supportive of the research academics are involved in.

The idea that discussions with the Competent Authority are for industry alone and should be delayed until the latest possible stage in a project are now seen as naïve and outdated.

Funders are commonly conducting due diligence on the feasibility of projects at an early stage and expecting to have a sound assessment of the regulatory and commercial considerations impacting a translational research programme.
Outcomes
The advice provided by MHRA helped to improve the regulatory proposition of QUB's hydrogel-forming microarray patches, which in turn helped the team at QUB in preparing a proposal for translational funding. Many funders are now beginning to specify that regulatory considerations must have been explored in order to improve the chances of funded technologies being translated to patient benefit.
QUB is actively working with a range of UK and international pharmaceutical companies on various applications of this technology for delivery of drugs, biotherapeutics and vaccines, as well as applications in diagnosis/monitoring.
The process of early engagement with MHRA for this technology has helped QUB to validate their translational approach and consider a range of other innovative technologies under development at the university that could benefit from this type of approach.
Dr Siu Ping Lam, Director of Licensing, MHRA said:
Ensuring regulatory requirements for novel devices, medicines and manufacturing sites are considered as early as possible is a core purpose of the MHRA Innovation Office.

It's great to see academia taking up the offer of free regulatory advice and developing innovative products with improved translational outcomes.

This approach helps ensure safer and quicker provision of novel treatments to patients.
How we can help you
Contact the Innovation Office to find out more about accessing expert knowledge, guidance and experience that could help you develop ideas and save time and money. #HealthInnovation
Published 12 July 2016