Case study
Innovation: MHRA helps Fujifilm future proof manufacturing facility - one of the first in Europe
How we helped FUJIFILM Diosynth Biotechnologies (Fujifilm) future proof mammalian cell culture manufacturing facility.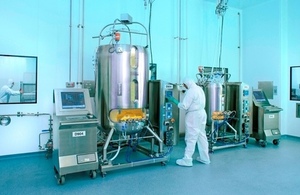 The issue
In 2011, FUJIFILM Diosynth Biotechnologies (Fujifilm) embarked on the ambitious design and construction of a new, innovative and GMP-compliant (Good Manufacturing Practice) mammalian cell culture manufacturing facility in Billingham, UK.
Mammalian cell culture is the process used to grow animal cell lines (groups of identical cells) in controlled conditions and is the basis for developing and manufacturing monoclonal antibodies and other biotechnology products that tackle illnesses such as cancers and heart conditions.
Fujifilm's investment in their site was strategically important to the company - developing an additional revenue stream based on mammalian cell culture technology, which accounts for two thirds of the biopharmaceutical market.
In the design and development of this new facility, Fujifilm had 5 clear objectives to:
design, build, commission and qualify a new multi-product GMP mammalian cell culture facility and implement a single-use technology platform to complement its USA site to enable international technical transfer of platform processes
recruit and establish an expert team to develop a proprietary cell line and process platform within the Billingham site
design and install a multi-project process and analytical development capability for mammalian programmes
deliver a successful proof-of-concept full scale mammalian cell based production campaign, in order to gain approval of the variation to add this authorisation to its manufacturer's licence as quickly as possible
enable fast-track expansion, as customer capacity demand grows
Fujifilm wished to engage MHRA in the proposed design and philosophy of the new facility as early as possible, in order to meet regulatory expectations, thereby reducing the risk of any late or costly changes. As a Contract Manufacturing Organisation (CMO), Fujifilm also consulted with a number of potential customers who were anticipated to be early users of the facility.
Subhash Chaudhary, Director Strategic Investments, Fujifilm Diosynth Biotechnologies said:
Biopharmaceuticals contract manufacturing is a growth area for Fujifilm. In expanding our Billingham site, we needed to access advice, guidance and knowledge from experts at MHRA who helped us really think through the design of the new facility, including future-proofing it against potential changes in regulations that could have cost us significant time, and therefore lost revenue, to rectify. Our new facility is cutting-edge, we believe to be the first of its kind in Europe, and is helping our customers to develop safe, effective treatments more quickly than ever before.
How MHRA helped
Fujifilm opened an early dialogue with MHRA in order to ensure it was able to include as much feedback into the design of their facility as possible. Fujifilm said that MHRA helped by:
reviewing the facility layout and providing steer for "future proofing" the layout in anticipation of potential changes and updates to the regulatory landscape.
confirming regulatory expectations for qualification of the facility and the process equipment based on using a single-use technology platform throughout the manufacturing chain.
advising on appropriate clean-room classifications based on process risk profile.
Outcomes
The site annually supports around 50 different customers to bring their novel therapies to market, benefiting public health. These cover a diverse range of products and processes including the production of monoclonal antibodies, vaccines and antibody drug conjugates that tackle diseases such as cancers, auto-immune, heart and inflammatory conditions.
It's believed this is the first purpose-built and now licensed facility in Europe to utilise single-use technology and hardware throughout the manufacturing operations, from cell line right through to Bulk Drug Substance filling. Benefits of the approach include:
eliminating complex cleaning cycles
reducing the likelihood of cross-contamination
speeding up product change-overs
improving operational safety of the site, as steam and caustic substances are no longer required in the production cycle
By developing its own cell-line and process development platform technologies, Fujifilm has reduced significantly the cell line development, scale-up and clinical manufacturing times of biologics to critical phase one clinical stage.
Future-proofing the site has potentially saved Fujifilm a prolonged shut down to implement any changes resulting from amended regulations at a later date. This also provides the facility with significant differentiation from competitors.
MHRA's Inspectorate Group Manager, Mark Birse said:
Innovation of the kind Fujifilm has delivered is crucial in ensuring the medicines of tomorrow are developed quickly and cost-efficiently. Our open and pragmatic approach to regulation is designed to support organisations achieve high standards: in site development; in drug manufacture; in public health and patient safety.
How we can help you
Our innovation office offers access to expert knowledge, guidance and experience that could help your organisation progress its innovative project. If your organisation is developing innovative site, medicine or device, get in touch early on. Email us at innovationoffice@mhra.gsi.gov.uk to find out how we can help. See our other case studies for more information on our work.
Published 25 June 2015