Case study
Innovation: MHRA helps OxSonics early on
MHRA supports innovation in anti-cancer drug delivery by providing regulatory advice to OxSonics early on in the process.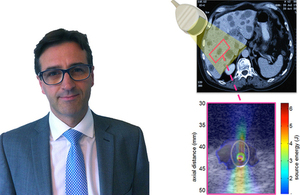 The issue
OxSonics is developing a new generation of ultrasound devices with the aim of solving a major challenge that exists in the treatment of solid tumour cancer today, where penetration by anti-cancer drugs faces significant limitations. This is due to the unique anatomy of solid tumours. OxSonics believes that its technology has the potential to overcome these limitations, enhancing delivery of anti-cancer drugs deep into solid tumours, including to those cells that lie farthest from blood vessels, which may lead to better efficacy of drugs.
This is achieved using a phenomenon known as "inertial cavitation" to actively "pump" drugs deep into and throughout solid tumour volumes.
In working to bring this technology to the market, a central challenge for the OxSonics team was that their technology combined both well understood and characterised ultrasound hardware with highly innovative injectable "sono-sensitive particles". OxSonics needed to understand how to classify these particles and also how to perform pre-clinical toxicology studies in order to gain approval to commence clinical investigations.
Dr Colin Story, CEO, OxSonics Limited said:
MHRA's innovation office is an excellent resource for companies working to develop innovative technologies. The support offered by MHRA through its innovation office has been invaluable to OxSonics – a relatively young but rapidly growing company developing cutting edge technology. The innovation office has helped us with product classification and defining pre-clinical studies and MHRA will continue to support us by providing informal access to world-leading expertise.
How MHRA helped
OxSonics contacted MHRA innovation office for access to knowledge and expertise that would help them successfully navigate current scientific and regulatory requirements. MHRA helped OxSonics in a number of ways including:
co-ordinating and facilitating an initial meeting to clarify the classification of the particles and the ultrasound hardware, which ensured that OxSonics could work to the correct regulatory standards
providing advice on the scientific and regulatory aspects of the toxicology studies in order to help OxSonics take their development forward
offering the opportunity to hold a scientific advice meeting to review the planned pre-clinical toxicology protocols that would need to be in place in order to gain approval to start clinical investigations
Outcome
The technology OxSonics is developing has the potential to deliver a stepchange in the efficacy of both existing and new anti-cancer drugs for a whole range of solid tumour cancers. Following clinical trials, it is hoped the approach can demonstrate an improvement in health outcomes for those who currently face a terminal illness.
Dr Siu Ping Lam, Director of Licensing, MHRA, said:
Our experts have the knowledge and experience to helpfully support SMEs to develop their innovative products. As well as being a regulator, we are passionate about helping companies develop products that could benefit patients and improve public health. Through the MHRA innovation office and scientific advice service, we are able to offer information and guidance to help companies, large and small, navigate scientific and regulatory requirements effectively.
Contact
Our innovation office offers access to expert knowledge, guidance and experience that could help your organisation progress its innovative project.
If your organisation is developing innovative products or technologies, get in touch early on.
Find out more about the innovation office or email innovationoffice@mhra.gsi.gov.uk.
Published 30 December 2014