Case study
Innovation: MHRA helps Eisai with state-of-the-art facility
Early and flexible input from MHRA facilitates successful flagship pharmaceutical site in UK.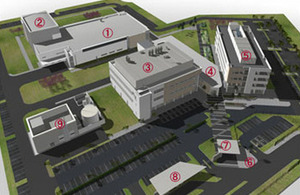 The issue
Eisai, a Japanese pharmaceutical company, embarked on an aggressive £100m investment plan to develop a European headquarters, research and production site in 2007. They had no prior manufacturing or packaging capability within Europe.
The design of the production facility had taken place in the UK and involved a cross-functional team including Japanese expatriates, professional services organisations and a newly appointed local team.
Eisai wanted to be sure that its concepts and design philosophies would meet the regulatory requirements before starting the work. Making changes later on in the process could cost them both time and money.
How MHRA helped
MHRA worked flexibly with the Eisai team to ensure aspects of compliance were considered at the beginning of the project, so that comments and suggestions could be taken on board addressed quickly and easily.
Eisai said that MHRA helped by:
attending advisory meetings to facilitate quick decision making
reviewing the conceptual approach to make sure it was on the right track
providing invaluable feedback at an early stage, helping Eisai to mitigate risk and avoid expensive changes to designs later on in the process
working to support Eisai in ensuring compliance
Alex Felthouse, director of engineering and production services, Eisai said:
Establishing a presence in Europe was of strategic importance to us. Involving MHRA Inspectorate early on in the design of our flagship research and production site really helped us to make sure we were developing something that was within the regulatory parameters for this type of site, particularly as we were planning to build in a variety of innovative features. We were able to access guidance and advice quickly and easily as the project developed, helping us to minimise risk and the potential for expensive and time-consuming changes to the site.
Outcomes
Eisai was able to provide high-level progress updates during the construction, commissioning and qualification period which supported the timely scheduling of Eisai Manufacturing Limited's first manufacturers importers authorisation inspection.
The new facility also brought over 100 production-related jobs to the local area and Eisai has announced a further investment in its local production facility. Eisai are continuing to involve MHRA early in the process in order to ensure ongoing successful development of the project.
Mark Birse, MHRA's group manager inspectorate, said:
It can be tricky to balance the desire to employ innovative features in site development with the need to meet regulatory requirements. At MHRA, we understand this tension and we work to help companies push the boundaries, but crucially within the parameters of safe and secure regulation. Our Innovation Office is the best way to access the information and guidance you need to save time, money and safeguard your investment in the UK.
Contact
Working with us at the start of your project could help you save time and money. See more information on the innovation office and email us to find out how we can help innovationoffice@mhra.gsi.gov.uk.
Published 29 January 2015