News story
7 reasons why the UK is a D5 world leader in digital public services
The UK, as host of D5 London, is a world leader in digital public services, making things simpler, clearer and faster for our citizens.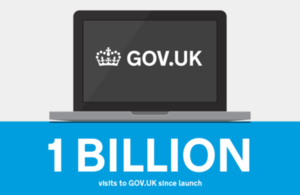 The D5 London summit on 9 to 10 December 2014 brings together some of the most digitally advanced governments in the world. Nations at the D5 will work together to explore and share new and better ways of providing the excellent digital public services our citizens expect.
The UK is one of the world leaders in digital public services, making things simpler, clearer and faster for our users. Our new online services are so good that people are voting with their feet and choosing to use them, both on their computers and via mobiles and tablets. Here are some of the ways digital technology has saved time, money and made it easier to interact with the government:
1. We replaced 1,700 government websites with just 1 - GOV.UK
GOV.UK is the best place to find government information and services. It is built around its users' needs, so that people can access information and services simply and quickly. In 2013 it beat competition from the Shard and the Olympic cauldron to win the Design Museum's Design of the Year Award, a first for a government website. It has saved taxpayers over £60 million in 2013 to 2014 alone.
2. More people are accessing government information online than ever before
Because the government has made its services easier and faster through digital technology, GOV.UK has had 1 billion visits since October 2012. It is the 27th most accessed website in the UK, with 1.98 million average visits per day in October 2014 alone. People are using it for a wide variety of different services and information. The most popular pages include childcare services information, state pension calculation, and disclosure and barring service checks.
3. Over 2.4 million people have registered to vote online in 5 months
We've made democracy more digital by moving the voter registration system online, replacing the form-based household system with individual registration. By moving to a simple one-step process of being verified against existing records, the system is also preventing fraud. Government can check that everyone on the register is who they say they are – giving greater trust in election process.
4. 128,000 busy carers have saved time and trouble by submitting their Carer's Allowance claims online
Around 54% of applications for Carer's Allowance are now made using the digital service. This makes what used to be a very complicated, time-consuming paper-based process quick and easy. One important change is a new way of checking that the disabled person understands the claim – removing the need for them to sign a paper declaration. The Carer's Allowance service works on any device, providing maximum convenience.
5. The View Driving Licence service has allowed 145,000 drivers to access their driving records online quickly and easily
Over 145,000 people have already used the View your driving licence service to see all the details of their driving licence and what vehicles they can drive. This instant service is easy to use and is quicker and cheaper than before. Previously, people had to call the DVLA or write in to receive these details, taking time on the phone or weeks by letter or email.
6. The Lasting Power of Attorney service is making a difficult decision easier
A simpler, quicker and cheaper system now allows the 300,000 people a year facing an uncertain future to apply for their loved ones to legally manage their affairs. They no longer need to consult a solicitor to set up lasting power of attorney. This service is growing rapidly as people see the benefits of applying online. 14% of all lasting power of attorney registrations are now made via the new digital service.
7. We are open: almost 20,000 government datasets are available for anyone to view online and use
The UK government is a world-leader in transparency. We are releasing huge amounts of public data to help people understand how government works and how policies are made. Data.gov.uk brings it together in one searchable website, making it easier for people to view and use. We're encouraging the public to use the data – to analyse trends, examine how different parts of government work and create useful applications.
The future of digital services
There's lots more for us to do, and we'll keep testing the new services we've built with users and continuously improving them. Being one of the D5 countries means we can share knowledge and expertise with other digitally advanced governments. We will keep pace with the rapid technical advances all around the world to continue improving our services for UK citizens.
Published 1 December 2014