Case study
Sports partnerships with local schools and community
Schools linking successfully with other local schools and community groups to enhance sports provision for pupils.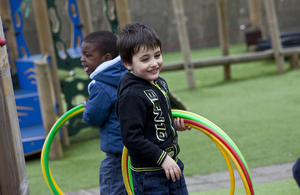 Working in partnership with schools
Coulsdon C of E Primary School in Surrey is part of the Coulsdon Cluster, a group of 7 primary and 2 secondary schools which meets twice a term to plan inter-school competitions and share good practice. The sports coach employed by the cluster shares expertise with all the schools, and the primary pupils enjoy a much wider range of activities than would usually be available, through their use of the secondary schools' sports resources.
Wickersley St Alban's C of E Primary School in Yorkshire gets many benefits from its partnership with the local secondary school (Wickersley School and Sports College), including:
help with transport to sports events
the services of a School Games organiser to increase competitive sports opportunities between the 6 feeder primary schools
use of outdoor and watersports facilities at the local country park leased by the college
up to 20 young sports leaders from the secondary school, who help out at the primary school sport festivals
Links with community clubs
New College Leicester shares its specialist sports facilities with some leading community sport clubs. These clubs have in turn provided expert coaches to run satellite sports clubs at the college's 6 partner primary schools, to encourage younger children to continue participating in sport long after they've left school.
Published 13 February 2014