Case study
Helping prisoners find work and reducing re-offending: Bad Boys' Bakery
From:

Part of:

Published:

23 June 2014
How working in a bakery is helping prisoners find work on release and reducing their re-offending.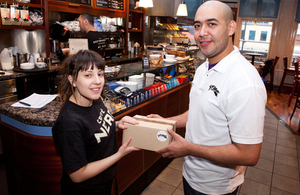 | | |
| --- | --- |
| Location | London |
| ESF funding | National Offender Management Service (NOMS) |
| ESF target group | Offenders and ex-offenders |
The Bad Boys' Bakery is a working bakery located in Brixton prison. It is run by Working Links, a leading provider of services to help reduce social exclusion and poverty. It is co-financed by the National Offender Management Service (NOMS) and the European Social Fund (ESF). The project won the European Social Fund National Project Award at the Adult Learners' Week 2014 National Awards.
About the project
The 12 week course gives prisoners training in baking, along with the skills and qualifications that will help them find sustainable work when they eventually leave prison. The project:
provides on the job training to industry standards, including food preparation, baking, stock and time management, as well as knowledge of health and safety systems
helps prisoners to gain a relevant qualification
prepares prisoners for work by helping with CVs, applications and letter writing
helps those who are eligible for temporary release, by arranging opportunities that include helping with deliveries outside the prison and taking on administration roles within the bakery
The Working Links employer services team provides continued support for the prisoners after their release.
Excellent results
Of those who have been through the programme:
33% are now in work or training – with many in the hospitality and catering industry
only 3% have gone on to reoffend within a year of being released from custody, significantly lower than the national average of 47%
So far, more than 60 people with convictions have been through, or are currently part of, the Bad Boys' Bakery programme, and have helped to produce and sell almost 75,000 tasty treats. Up to 20 prisoners can work full-time in the bakery.
Christian's story
Christian joined the bakery while he was serving his sentence in Brixton.
I was part of the bakery team for more than 6 months. During this time I learned so much in terms of baking, but most importantly I learned how to work with a team of people. I also realised that I was actually good at baking – and it made me think that this was something I would like to follow through with when I was going to be released.

Luckily I was granted my ROTL (release on temporary licence) while working for the bakery and the employer services team set me up with a job opportunity in a local restaurant. I really enjoyed getting out and working in the restaurant environment and felt good after a hard day's work. On release the restaurant offered me full time employment, and I accepted the job with absolute pleasure. By working in the bakery this has led me on to a better position in my life and I can now support my family and daughter without making the mistakes of crime I had previously.
More about Working Links and the Bad Boys' Bakery
Working Links is passionate about changing people's lives through employment, training and skills development.
The organisation is experienced in helping a wide range of people into sustainable employment:
long term unemployed people
disabled people
lone parents
people with convictions
recovering substance users
young people
Read more about the Bad Boys' Bakery on their website.