Case study
Help for young people through volunteering: an ESF project in Sheffield
From:

Part of:

Published:

7 May 2014
How volunteering with personalised support helped young people in Sheffield gain qualifications, go to college or find an apprenticeship.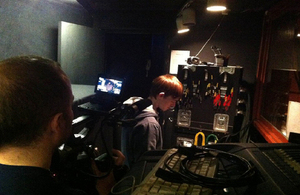 | | |
| --- | --- |
| Location | Sheffield, South Yorkshire |
| ESF funding | Skills Funding Agency |
| ESF target group | Young people not in education or training (NEETs) |
Future:proof, part of Sheffield City Council, used a volunteering-with-qualification project for young people, aged 16 to 18. They commissioned the project from PET-Xi to help the participants into work, college or an apprenticeship. The project was co-financed by the European Social Fund (ESF) and the Skills Funding Agency.
About the project
The project included work with the participants to:
find them a full-time volunteering opportunity
prepare them for volunteering by helping with CVs, applications and criminal record bureau checks, if appropriate
help them get a relevant qualification while volunteering
support them and the host organisation throughout the placement
help them with career choices
support individual needs, for example those related to childcare or disability
Excellent results
Between March and December 2013:
62 young people were involved in the pilot
58 started the qualification and 54 achieved it
45 went on to further education
6 went on to an apprenticeship
Jak's story
Jak benefited from the programme and tells his story in his own words.
My education was a real struggle, I felt neglected by teachers who didn't believe in me, made me feel stupid, everyone had let me down, including some of my mates. When I left school, my parents were constantly on at me to get a job or go to college. The pressure was intense. I didn't even know what I wanted to do or where to go.

I enjoyed mechanics at school but my passion was music, making beats on my computer. I figured there wasn't much point to it because there wasn't much money in it. I went for a mechanics apprenticeship but it didn't work out.

I decided to do a volunteering course at PET-Xi. It's the best decision I ever made. It was so motivational, it made me want to get up in a morning and do something. It gave me a purpose. My confidence levels shot up. The trainers were great and they believed in me.

The best part? Getting a volunteering placement at a theatre working as a Sound Assistant on a play. I shadowed professionals and learnt so much about technical knowledge and sound in a theatre performance. I had never even been to a theatre in my life and it really opened my mind to all the different work and opportunities out there. I met some amazing and talented people. I'd never even considered volunteering. I mean, what's so good about working for free? Not anymore – I ended up volunteering for a whole month, 7 days a week!'

And now, I've enrolled on a Level 2 course in computer and music production at Red Tape Central. I am going to continue volunteering, especially now I have been asked to help out in the studio and I am going to keep looking forward. It's great!! I am buzzing! And I even get to focus on my music – who'd of thought? And all thanks to PET-Xi.
Funding for the programme has ended but Sheffield City Council and PET-Xi are looking for other funds to continue the work.