Case study
Getting more pupils playing sport
How schools have increased participation in sport for girls, less active pupils and children with special educational needs or disabilities.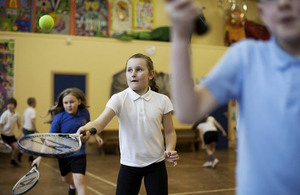 Getting less active children into sport
The St John's C of E Primary School in Barnet offers pupils a sports enrichment programme where every child receives 6 weeks' coaching from qualified sports specialists, funded by the school and the parent-teacher association (PTA). To appeal to the less 'sporty' children, the choices include yoga, Tae Kwan-Do, street dance and kayaking.
As well as regular PE lessons, Coulsdon C of E Primary in Surrey runs themed days to get more pupils into sport. Their annual 'healthy schools day' teaches children about fitness through activities such as army physical training and aerobic fitness tests.
Including girls
Godolphin and Latymer School in London surveyed its girls to find out what sports activities would appeal to them. As a result of the survey, it now offers pilates, dance and zumba, as well as hockey, netball and rowing. The school encourages the girls to take part in extra-curricular squads and clubs through assembly presentations by club members and extra-curricular fairs. The school has also reviewed its kit policy to allow the girls to wear a range of warm clothing during the winter months.
Including children with special educational needs and disabilities (SEND)
Children with severe learning difficulties, physical difficulties and autism at Newall Green High School in Manchester take part in regular PE and sport activities, joining in mainstream PE lessons, after-school clubs and sports days.
The school's inclusive sports policy involves adapting the equipment, facilities and even rules of popular games to cater for children with special needs. A sports-qualified teaching assistant provides extra support and guidance for SEND pupils during PE lessons.
Adaptations to involve children with SEND include:
altering the rules of games and marking out different pitches to make play possible for children in wheelchairs
playing SEND-friendly games such as boccia and curling
nets that are height adjustable for students in wheelchairs
soft balls for children who are less co-ordinated or have slow reactions
differently sized bats and rackets to suit all needs
Published 13 February 2014