Case study
Employment support for the over 50s: an ESF project in Luton
From:

Part of:

Published:

7 May 2014
How personal advisers and group sessions help unemployed over 50s in Luton get the confidence and skills to find work.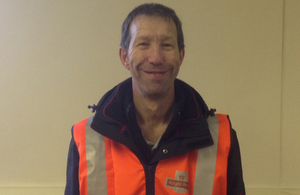 | | |
| --- | --- |
| Location | Luton, East of England |
| ESF funding | Luton Borough Council co-financing organisation |
| ESF target group | Older workers |
The Learning Partnership's Over 50s project is funded by the European Social Fund (ESF) and Luton Borough Council. It offers a comprehensive package of employability support to unemployed people aged over 50 living in Luton.
The project helps participants:
identify and overcome their barriers to work
build their confidence
find a job
Each participant has a personal adviser who offers free support, mentoring and guidance. Participants attend a weekly Work Club to develop employability skills, and they have free access to computers and the internet to search for jobs and apply for them.
Dave's story
One of the project's many successful participants is Dave, who joined the Over 50s programme in April 2013. He had been made redundant after 35 years in the hat manufacturing trade – being unemployed and having to receive benefits was a new experience for him. His Jobcentre Plus adviser referred him to the project for help with digital job search skills, basic IT training and interview skills.
Having joined the project, Dave started putting together an action plan with help from his personal adviser. He successfully completed basic IT training designed to remove the fear of computers and the internet for novice users. Then he was ready to move on to an accredited IT qualification.
Over the following weeks, Dave attended group sessions and the Work Club regularly and had a positive attitude to learning. He developed the skills to search for suitable online vacancies, upload his digital CV to job sites and received a recognised IT qualification.
At the end of the project, Dave found a full time, permanent job as a Royal Mail postal worker.
Dave said that this opportunity came at just the right time and he enjoys his new job and new, active lifestyle.
Determination and commitment
Dave's personal adviser added:
Dave has been a worker his entire adult life, he was worried he would never be given another chance in life after the hat trade finished in the town. I'm really pleased when someone shows his level of determination and commitment gets the opportunity they deserve and all their hard work really does pay off in the end. The current Employment Support for the Over 50s project will continue to run until May 2015.