Guidance
Inward investment: access to the UK's export credit agency
Companies setting up operations in the UK can use the products and services available from UK Export Finance.
Access to UK Export Finance's products and services can form part of an attractive package for companies located in the UK.
UKEF has the capacity to support up to £50 billion of export finance or insurance to help UK-based companies trade internationally.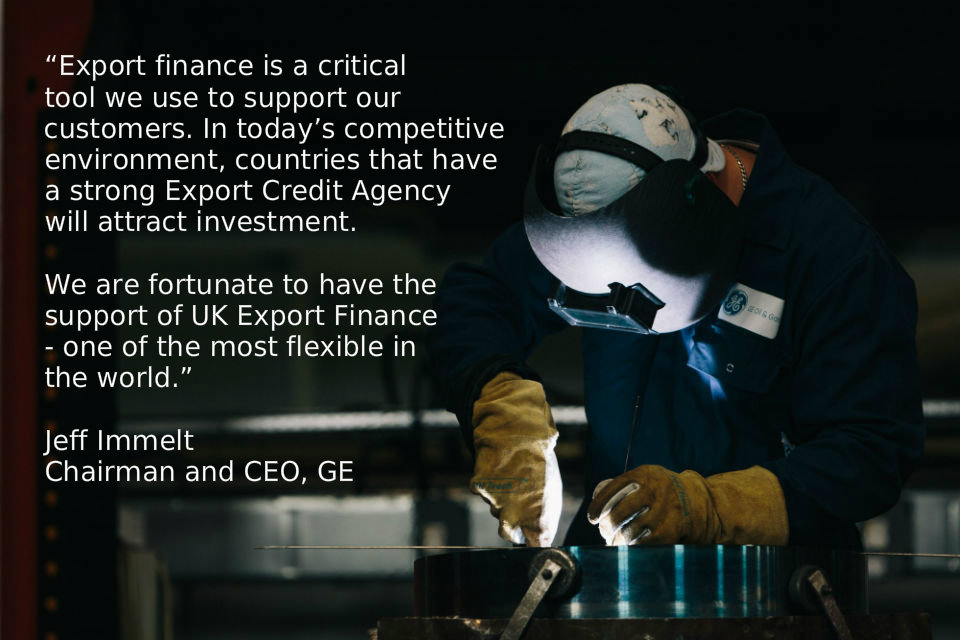 Support available
We can help overseas companies operating in the UK:
win export contracts by providing attractive financing terms to their buyers
fulfil contracts by supporting working capital loans
get paid by insuring against buyer default
Type of companies supported
We can support exports from the UK for any size of company and across all sectors, from capital goods to services and intangibles such as intellectual property.
Find out more
We seek to address a wide variety of export requirements, including guarantees to support working capital loans, performance or advance payment bonds, capital markets financing, Islamic compliant financing and local currency loans. We also provide insurance against payment risks and can fund direct loans to buyers. Our mission is to ensure no viable UK export fails for want of finance or insurance.
Joint support with your domestic export credit agency
If you have an export contract that will involve goods and/or services from the UK and your home country, we can explore co-operation on a single finance package for your buyer. We have ongoing co-operation agreements with the agencies listed below.
See a full list of the agencies we have agreements with.
| Country | Agencies the UK has international agreements with |
| --- | --- |
| China | China Export & Credit Insurance Corporation (Sinosure) |
|   | Export Import Bank of China |
| Germany | Euler Hermes (on behalf of the German state) |
| USA | Export-Import Bank of the United States (Ex-Im Bank) |
About us and contact information
UK Export Finance is the UK's export credit agency and a government department, working alongside the Department for International Trade as an integral part of its strategy and operations.
New business enquiries
Our helpline is open from 9am to 5pm.
Published 17 November 2016