Oral statement to Parliament
Foreign Secretary statement on the Middle East and North Africa
The Foreign Secretary has made a statement on the UK's response to events in the Middle East and North Africa including Egypt and Syria.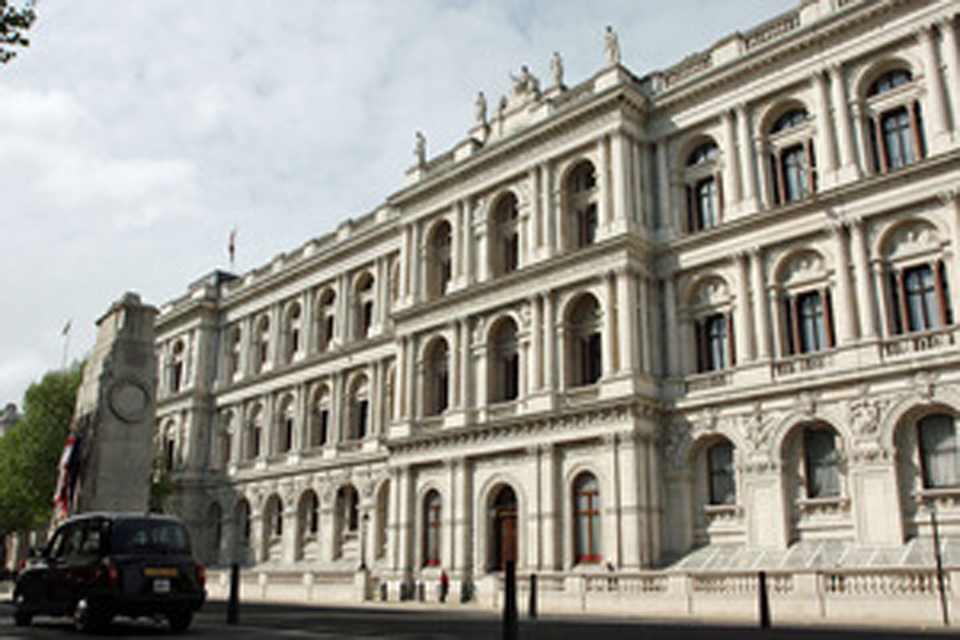 Mr Speaker, with permission I will update the House on the UK's response to events in the Middle East and North Africa.
Members on all sides will be concerned about the situation in Egypt. Our Embassy in Cairo is offering assistance to British nationals, and we advise against all non-essential travel to Egypt outside the Red Sea resorts.
I made clear last week that the United Kingdom does not support military intervention into democratic politics, although we recognise that many Egyptians welcomed the action that was taken. I have been in close contact with the Acting Egyptian Foreign Minister, Mohamed Kamel Amr. I have emphasised the importance of an urgent return to democratic processes and expressed our deep concern at the deaths of over 50 protestors.
The Egyptian authorities have announced an interim Prime Minister, Hazem Beblawi, and a timetable for new elections. This process should be inclusive, in our view, open to all parties and lead to free and fair elections. This should therefore mean the release of political leaders and journalists, agreement on a new constitution and the checks and balances of a democratic system, and urgent steps to reform Egypt's economy.
Two years ago the Egyptian people demanded a real democratic voice, and jobs not corruption in the economy. So far their leaders have failed to deliver this. But the hunger and aspiration for a better Egypt is as strong and urgent as ever. It is vital for their own country and the region that all sides rise above self interest and work towards an open, democratic and reforming Egypt.
There is no alternative to the long, painstaking work of making a success of the transitions in Egypt, Tunisia, Libya and Yemen.
That is why, for example, I announced to the House yesterday in a written statement that the UK will train 2,000 Libyan Armed Forces personnel in basic infantry skills. This is part of a broader effort with the US, Italy and France, agreed at the G8, to help the Libyan Government disarm and integrate militias and improve security.
Democratic change is a process, not an event, and these countries will see setbacks as well as successes. But we should not lose faith with the people of the region, the vast majority of whom seek prosperity and dignity for their countries. We must therefore provide patient, long term support to governments and civil society in the region, as we are doing through the Deauville Partnership we are promoting during our G8 Presidency and the UK Arab Partnership Initiative, which supports women's participation, electoral reform, economic development and the building of democratic institutions. Achieving lasting positive change will be the work of a generation.
This goes hand in hand with our support for the Middle East Peace Process. I pay tribute to Secretary Kerry for tirelessly preparing the ground for a return to negotiations. My Hon Friend the Under Secretary of State, the Member for North East Bedfordshire and I visited Israeli and Palestinian leaders in recent weeks, to urge them to enter negotiations. We are ready to work with the EU and Arab nations and offer practical support, and I call on Israelis and Palestinians to show the courage that is necessary. This may be the last opportunity to achieve a two state solution. This also requires progress on Gaza. The status quo there is not sustainable. All sides need to implement the ceasefire agreement. This includes a permanent end to rocket attacks and an easing of Israeli restrictions.
We will also make every effort to persuade Iran to negotiate an end to the crisis over its nuclear programme. We look to a new Government in Iran to give a comprehensive response to the E3+3's proposal for a confidence building measure, and to co-operate fully with the International Atomic Energy Agency. We will respond in good faith to positive action by Iran. We are ready to improve our relations on a step by step basis, but no one should doubt our resolve to prevent nuclear proliferation.
Mr Speaker, the Middle East is vital to our national interests and security. It would be a major strategic error for our country or our allies to turn away from the region.
This includes the conflict in Syria, where the death toll is mounting, extremism and sectarianism is growing and the risk of the total collapse of the country is ever-present.
The Assad regime has ramped up its military assault using air strikes, Scud missiles and artillery. As many as 13,000 Syrian civilians have been killed since my last statement to the House on Syria on 20th May, and UN figures for the total number of deaths will soon exceed 100,000 people. There are 4.25 million IDPs inside Syria and 1.7 million refugees are placing an immense strain on the stability and economies of neighbouring countries. By the end of the year, 10 million people could be in need of assistance, almost half the population of Syria.
We judge that Iran is providing personnel, equipment, weapons and financial assistance to the Assad regime, which is also being supported by thousands of Hezbollah fighters from Lebanon.
We call on Syria to allow the UN unfettered access to investigate incidents of chemical weapons use in Syria. Those responsible for any attacks should be held to account. We have passed evidence of the use of sarin in Syria to the UN. We are concerned to see new, unconfirmed reports over the weekend of chemical attacks in Homs.
Faced with this growing and protracted crisis to which there is no end in sight, we have three objectives: to promote a political solution in Syria, to help save lives, and to protect the national security of the United Kingdom.
First, a political transition in Syria remains the best hope of ending the violence. I attended meetings of the Core Group of the Friends of Syria in Amman on 22nd May and in Doha on 22nd June. We agreed to increase practical support to the opposition and to channel that support through the National Coalition. We all want a political solution, but that will not be possible if legitimate opposition can be obliterated.
On 17th June the G8 including Russia re-affirmed support for a second conference in Geneva, leading to the creation of a transitional governing body with full executive powers in Syria.
Since May, the National Coalition has expanded its membership significantly, to include other opposition groups and the moderate armed opposition. It has pledged to increase the provision of services in opposition held areas and to build up local governance structures. On Saturday the Coalition elected a new President, Ahmed Assi al-Jarba. We will work with him to help the Syrian opposition promote its vision of a free, democratic and pluralist Syria that defends the rights of all Syrians.
The regime offensive of recent weeks has made it even harder to bring a Geneva Conference together. But we will continue our diplomacy with the US, Russia, Arab nations and the UN to bring about a conference, while preparing for the risk that the conflict worsens.
So second, we are working to save lives.
We have already provided more than £12 million in non-lethal assistance to the National Coalition, Local Councils and Civil Society. We have provided armoured vehicles; body armour; generators; communications equipment and other non-lethal equipment as well as training for human rights activists to document rights violations. We will provide a further £20 million in non-lethal assistance in the coming months, which we have already announced, including communications support and training for the National Coalition. We are exploring the possibility of helping to establish civilian policing structures in opposition-held areas, and the supply of protective equipment against chemical and biological weapons use. This week we will again deploy UK experts to Syria's borders to train health professionals and human rights defenders to document evidence of rape and sexual violence.
As I explained to the House in March, we are providing technical assistance for the protection of civilians. This includes providing advice and training on how to maintain security in areas no longer controlled by the regime, as well as advice on coordination between civilian and military councils, on how to protect civilians and minimise the risks to them, and how to maintain security during a transition. On the question of any future lethal support, that is arming the opposition or intervening militarily ourselves, the Government's position has not changed. No decision has been made and any decision would be put to the House on a substantive motion.
We have doubled the United Kingdom's humanitarian assistance for Syria and its neighbours to £348 million over the next two years. This includes £50 million for Syrian refugees and host communities in Jordan, and £50 million for Lebanon, which the International Development Secretary announced on Monday while in the region. I condemn yesterday's bomb attack in Beirut, and call on all Lebanese parties to work together to resist any efforts by extremists and terrorists to undermine Lebanon's hard-won peace.
The longer the Syria conflict continues the more important it becomes to provide stabilisation and development support where we're able to do so as well as urgent humanitarian assistance.
The UK will continue to lead efforts to improve the effectiveness of the international humanitarian response. Last week the Development Secretary hosted a meeting with like-minded states and the Heads of key agencies, and will also host a separate event to plan international support to Syria after a transition.
Third, and finally, we are determined to protect British national security against risks posed by groups in Syria that are affiliated or aligned to al-Qaida, including the Al-Nusrah Front and Al-Qaida in Iraq, that are taking advantage of ungoverned space created by the conflict. We judge that there are now over 100 UK-linked individuals of concern who have travelled to Syria. Some individuals returning to the UK could pose a long term terrorist threat.
The most important step to tackle the terrorism threat is to end the conflict and secure a transition to a new, legitimate government in Syria. But extremists should be in no doubt of the action we are prepared to take to protect our national security. Our Intelligence Agencies and police are working to identify and disrupt potential threats. The Police have the power to examine and detain individuals at the UK border to investigate any concerns of terrorism involvement. UK Nationals of concern seeking to travel from the UK can have their passports refused or withdrawn. And foreign nationals resident in the UK can have their leave to remain revoked if they are deemed non-conducive to the public good.
Mr Speaker, international diplomacy has failed so far to resolve the crisis in Syria. The UK will continue to play a leading role in promoting a political solution even though we may have to persist over many months, in saving lives where we can be proud of the contribution our country makes, and in safeguarding our national security at all times. And we will continue to help countries in the Middle East and North Africa to make a success of their transitions, keeping faith with its peoples, protecting our interests as the United Kingdom, and widening international peace and security.
Further information
Follow the Foreign Secretary on twitter @WilliamJHague
Follow the Foreign Office on twitter @foreignoffice
Follow the Foreign Office on facebook and Google+
Subscribe to the announcements feed or email alerts to get our latest news and announcements.
Published 10 July 2013