News story
Winter sports: a third left on thin ice without appropriate insurance
Foreign Office, ABTA and four-time Winter Olympian Chemmy Alcott urge British nationals to stay safe on the ski slopes this winter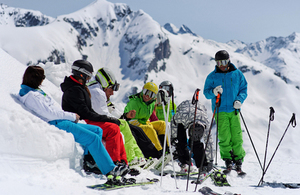 With millions of Britons expected to hit the slopes this winter, new research from ABTA, working in partnership with the Foreign and Commonwealth Office (FCO), reveals that a third (31%) of travellers do not check whether they have the correct insurance to cover winter sports, such as skiing and snowboarding, before jetting off.
Surprisingly, those in the over 65 age bracket are most likely to travel without appropriate insurance, with more than half (55%) of this age group failing to check if they're covered for winter sports before they travel – well above the 31% average. The research of more than 600 travellers also highlights people aged 25-34 as the most safety-conscious, with less than a quarter (24%) travelling without ensuring they have suitable winter sports insurance.
There have been 45 British deaths from skiing and snowboarding holidays reported to the FCO in the last three years, with thousands more having suffered injuries both on- and off-piste. To help raise awareness of the importance of being prepared, we have teamed up with ABTA and former British Olympic skier Chemmy Alcott to provide the latest travel advice from pre-departure to après ski.
Michael Vibert, Head of Consular Communications, Foreign and Commonwealth Office, said:
With the winter season about to begin and millions of British nationals setting off to resorts across Europe and North America, we want to ensure that everyone enjoys their time in the mountains. ABTA's research suggests that almost a third of Britons are travelling without checking their insurance, so it's important to take note of our advice and #SkiSafe this season.
Mark Tanzer, ABTA Chief Executive said:
As we look forward to the winter sports season, we are urging holidaymakers to be aware of the potential risks of such activities. Along with following safety advice, we would also advise anyone planning a winter sports holiday to ensure that they have appropriate insurance in place. Unfortunately accidents can happen and can lead to costly medical bills, but having the right kind of cover means people can make the most of their time on the slopes without having to worry.
Chemmy Alcott's top ten tips for a safe trip this winter:
Pre-departure
Take out comprehensive travel insurance with winter sports cover and check what it covers

If heading to Europe, travel with a free European Health Insurance Card (EHIC) to get free necessary treatment at public hospitals

Make sure your passport is valid before you travel

Check the FCO's travel advice for the country you are visiting

Keep up to date with the local weather conditions before you go and while you're in resort
In resort
Stick with your mates when walking back to your hotel or chalet and follow the signed paths

Only ski off-piste if you are a confident skier, aware of the risks and are with a qualified guide

Wear a helmet

Remember the effects of drinking alcohol increase at altitude – your judgement, coordination and reaction times may be affected

Make sure you and your friends know that in an emergency, the number to call is 112 in Europe and 911 in USA
ABTA has advice for people heading on a winter sports holiday, see their winter sports tips
---
What can the FCO do for people who have problems when travelling abroad?
| | |
| --- | --- |
| The FCO can: | The FCO cannot: |
| Issue you with an emergency travel document | Help you enter a country if you do not have a valid passport or necessary visas |
| Provide information about transferring money | Give you legal advice or translate documents |
| Provide help if you have suffered rape or serious sexual or physical assault, are a victim of crime or are ill or in hospital | Investigate crimes or get you out of prison |
| Give you a list of local lawyers, interpreters, doctors or funeral directors | Get you better treatment in hospital or prison than is given to local people (but we will raise concerns if treatment falls below internationally recognised standards) |
| Contact you if you are detained abroad | Pay any bills or give you money |
| Contact friends and family at home for you if you wish | Make travel arrangements for you |
| Provide help in cases of forced marriage |   |
| Assist people affected by parental child abduction |   |
Notes to editors
Survey conducted by Opinium in November 2015, from a nationally representative sample of 2,003 British nationals.
Consumer research was conducted by Arkenford Ltd who specialise in tourism and leisure market research. The ABTA Consumer Trends survey generated response from a nationally representative sample of 2003 consumers using an online research methodology and related to holiday booking habits in the 12 months to August 2015. Fieldwork was conducted in August 2015.
The FCO 'Know Before You Go' campaign targets a number of audiences, from gap year students to package holidaymakers; sports fans to older travellers and people visiting friends and family abroad. The campaign works with more than 400 travel industry partners to communicate its messages. For more information visit our Know Before You Go page on GOV.UK.
If you have any enquiries for FCO consular staff before you go or while abroad you can use the FCO's Twitter service @FCOtravel. This adds to the ways that British people travelling or living overseas can already get in touch with the FCO: by emailing our travel advice team or contacting local consular staff.
You can keep up-to-date with the latest FCO travel advice by signing up to the FCO's Facebook and Twitter feeds.
About ABTA
ABTA has been a trusted travel brand for over 65 years. Our purpose is to support and promote a thriving and sustainable travel and tourism industry and to help our Members' customers travel with confidence. The ABTA brand stands for support, protection and expertise. This means consumers have confidence in ABTA and a strong trust in ABTA Members. These qualities are core to us as they ensure that holidaymakers remain confident in the holiday products that they buy from our Members.
We help our Members and their customers navigate through today's changing travel landscape by raising standards in the industry; offering schemes of financial protection; providing an independent complaints resolution service should something go wrong; giving guidance on issues from sustainability to health and safety and by presenting a united voice to government to ensure the industry and the public get a fair deal.
ABTA currently has around 1,200 Members, with a combined annual UK turnover of £32.07 billion. For more details about what we do, what being an ABTA Member means and how we help the British public travel with confidence visit the ABTA website.
Contact
If you would like further information about this press release please contact ForeignandCommonwealthOffice@consolidatedpr.com or +44 20 7781 2300
Published 4 December 2015