News story
United Nations General Assembly 2014
The Prime Minister led a delegation to the 69th session of the United Nations General Assembly (UNGA) in New York.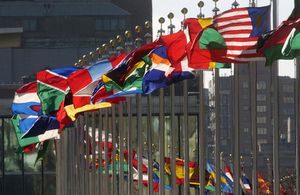 A key priority for the UK government at UNGA was building broad-based support for the new Iraqi government and for international action to confront ISIL (Islamic State of Iraq and the Levant) and tackle Islamic extremism. Read about the UK government response to ISIL.
Alongside the Prime Minister, ministers from the Foreign and Commonwealth Office, Department of Energy and Climate Change and Department for International Development attended UNGA.
News and announcements
Ebola
The UK is leading a mission to defeat the Ebola outbreak in Sierra Leone, and called on governments at UNGA to join its action plan.
Climate action
The UN summit on climate change saw major initiatives on climate, as over 120 leaders gathered to offer high level political support and momentum to efforts for a global climate deal at the key Paris summit in December 2015.
Syria
Representatives from the Friends of Syria, including UK Foreign Secretary Philip Hammond, met with Syrian National Coalition President Hadi al-Bahra to demonstrate collective support for the moderate opposition led by the National Coalition.
The UK is stepping up humanitarian support for Syrian families caught in the crisis, as unrest from ISIL extremism continues to threaten the region.
Meetings
Social media
Follow these Twitter accounts to get the latest from UNGA:
Relevant hashtags: #UNGA, #UNGA69, #MDGCountdown, #MDGMomentum, #Climate2014, #backclimateaction #TimeToAct, #HeForShe, #EbolaResponse, #WCIP2014 (World Conference on Indigenous People), #SocialGoodSummit, #FreeAndEqual (LGBT rights), #ZeroHunger, #ChildrenOfSyria, #ChildrenNotSoldiers, #NoLostGeneration
Follow the UK Mission to the UN's Instagram account at http://instagram.com/ukun
Read more about UNGA
Find out more about the 69th session of the United Nations General Assembly on the UN website.
Published 22 September 2014
Last updated 27 September 2014
+ show all updates
Added translation
Updated with latest news.
Updated with new content
Keep up to date with the latest from the UK delegation at UNGA on our Storify: https://storify.com/number10gov/united-nations-general-assembly-2014.
Latest news: UK will work with business to tackle deforestation in developing countries
First published.