Press release
World must invest in Syria's young, says Greening
UK International Development Secretary announces £100 million in new UK funding for Syria and neighbouring countries at UN General Assembly.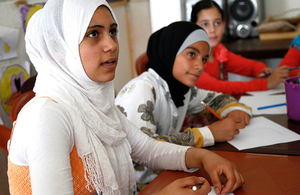 World leaders must make a major investment in the next generation of Syrians to provide them with better opportunities and a viable alternative to extremism, International Development Secretary Justine Greening urged today.
The International Development Secretary made the call at the UN General Assembly (UNGA) in New York, where she announced £100 million in new UK funding for Syria and neighbouring countries. This brings the UK's total response to the Syria crisis to £700 million.
Speaking from New York, Justine Greening said:
"In the last few days tens of thousands of Syrians have fled into Turkey to escape ISIL extremists, a further reminder of just how volatile the situation in Syria remains. As needs continue to grow, the world's generosity must keep pace.
"The rise of ISIL is a chilling reminder that we cannot allow this to become a forgotten crisis. Syria and its neighbours stand at a crossroads. We must show the children and young people of the region that there is an alternative to the bloody narratives of ISIL and the regime - a future of hope not hatred."
Central to the new funding is a focus on meeting both the immediate and long term needs of children and young people across the region who are now facing a fourth year of violence and uncertainty.
This includes new cross-border aid to reach isolated children and families inside Syria, protection and therapeutic services for young people traumatised by the conflict, and new funding to ensure refugee children in Syria's neighbouring countries don't miss out on the chance of an education.
New UK support announced by the International Development Secretary in New York includes:
cross-border aid deliveries, including 1.3 million food rations and drinking water for 350,000 people in hard to reach areas in Syria (more than £30 million); and
new support for Syrian refugees in Jordan and Lebanon, including drinking water for 60,000 people and shelter for more than 18,500 people (nearly £10 million).
Ms. Greening will also commit £50 million to the No Lost Generation Initiative, which was launched at UNGA a year ago to help children across the region whose lives have been turned upside down by the ongoing conflict. This includes:
new support for the Lebanese Government's 'Reaching All Children with Education' scheme to expand the public education system (£20 million);
outreach education for refugees in Lebanon who are not able to attend school (£11 million);
improving the quality of education for all early grade primary school children in Jordan and helping to integrate Syrian refugees into the education system there (£15 million); and
mental health care and counselling for children inside Syria and across the region to help them cope with the effects of the conflict (£4 million).
The funding announced today will support people in Syria and the region to cope with urgent needs and to rebuild their lives. Importantly, it will incorporate multi-year funding, so partner agencies can put in place longer term plans.
The UK will also continue to push the international community to work more effectively together and with host governments across the region to respond to the threat of ISIL and address risks to regional stability.
Notes to editors
The UK has now committed £700 million to the Syria crisis, its largest ever response to a humanitarian crisis.
More than ten million people inside Syria are now in desperate need of help and three million more have become refugees, half of them children. This is the largest humanitarian crisis in the world. Neighbouring countries have been incredibly generous, but they are under increasing strain as refugee numbers continue to grow.
For the latest on how the UK is helping those affected by the Syria crisis, go to: https://www.gov.uk/government/news/syria-the-latest-updates-on-uk-aid
General media queries
Follow the DFID Media office on Twitter - @DFID_Press
Published 23 September 2014