Press release
UK uses Open Government Partnership summit to make transparency a reality for citizens
UK publishes ambitious plan for more open government as the world comes to London to drive forward the transparency agenda.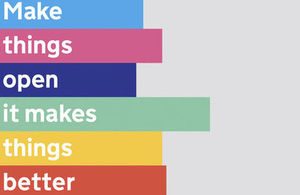 The UK government has announced wide-ranging new commitments to bring more of the benefits of transparency into people's everyday lives. Today, Minister for the Cabinet Office Francis Maude said: "Transparency is an idea whose time has come".
He was speaking at the Open Government Partnership (OGP) annual summit in London, which the UK is hosting as OGP lead co-chair.
The UK government also announced a range of other new commitments to bring more of the benefits of transparency into people's everyday lives, making clear that an open and transparent government is a vital part of any country's plan for prosperity and its ability to succeed in the global race. Leading by example, the UK has committed itself to create a publicly accessible central registry of information on beneficial ownership. The registry will contain information about who ultimately owns and controls UK companies.
Prime Minister David Cameron told the summit:
We need to know who really owns and controls our companies. Not just who owns them legally, but who really benefits financially from their existence.

This summer at the G8 we committed to do just that – to establish a central register of company beneficial ownership. And today I'm delighted to announce that not only is that register going to go ahead - but that it's also going to be open to the public.
As well as securing stretching new commitments from participating countries, the UK is using the summit to help drive forward the transparency agenda at home, especially on open data and corporate accountability.
Fulfilling its OGP obligations, on day 1 of the summit, the UK published its second National Action Plan (NAP) This has been developed through extensive negotiations between government and representatives of the UK's Civil Society Network.
The summit has also seen publication of the first version of a National Information Infrastructure (NII), comprising datasets held by government that are most likely to fuel economic and social growth and innovation. Developed in public consultation with business and civil society, this is a world-leading development that other countries may want to emulate.
Other announcements include commitments to:
implement and champion internationally a global standard of financial transparency and accountability in the extractive industries (oil, gas and mining) on the part of governments and companies, in line with the principles in the G8 Open Data Charter
publish information on official development assistance (ODA) in line with the International Aid Transparency Standard (IATI), so that UK assistance can be tracked through the delivery chain
ensure a strong legislative framework to encourage workers to speak up about wrongdoing, risk or malpractice without fear of reprisal
demonstrate the potential of open policymaking by running at least 5 "test and demonstrate projects" across different policy areas
a pilot study giving parents access to their own children's data on the National Pupil Database, with a view to developing tools that give them a better understanding of their child's educational performance
for NHS England to improve the quality and breadth of information available to citizens, helping them participate more fully in both their own healthcare and in determining the design and quality of health services
Minister for the Cabinet Office Francis Maude said:
Transparency is an idea whose time has come – and the clock cannot be turned back. The unstoppable momentum building behind open government at home and abroad is accelerating the pace of change, and we are using it to drive innovation and growth, improvements in public services and greater accountability in public and corporate organisations.

The best way to demonstrate the power of transparency is by making it real for everyone. That is why we are announcing a range of open data and transparency commitments at the OGP summit and opening up data in areas from business to education, health and aid that will have a direct and beneficial impact on the way we live and work, on the quality of the public services we use, and on the choices we make as citizens.
Notes to editors
The Open Government Partnership is a multilateral initiative that aims to secure concrete commitments from governments to promote transparency, empower citizens, fight corruption, and harness new technologies to strengthen governance. In the spirit of multi-stakeholder collaboration, OGP is overseen by a Steering Committee including representatives of governments and civil society organizations. Details of the Open Government Partnership summit can be found here.

There are around 350 individuals who each hold more than 100 directorships in the UK, with cases of people holding up to 1,000.

The government's economic policy objective is to achieve 'strong, sustainable and balanced growth that is more evenly shared across the country and between industries.' It set 4 ambitions in the 'Plan for Growth', published at Budget 2011:

to create the most competitive tax system in the G20
to make the UK the best place in Europe to start, finance and grow a business
to encourage investment and exports as a route to a more balanced economy
to create a more educated workforce that is the most flexible in Europe
Work is underway across government to achieve these ambitions, including progress on more than 250 measures as part of the Growth Review. Developing an Industrial Strategy gives new impetus to this work by providing businesses, investors and the public with more clarity about the long-term direction in which the government wants the economy to travel.
Published 31 October 2013