Press release
UK supports Aung San Suu Kyi's call for democratic reform in Burma
Burmese opposition leader Aung San Suu Kyi meets senior ministers at the beginning of UK visit to London, Northern Ireland and Sandhurst.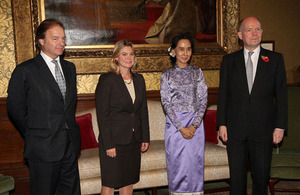 The Prime Minister, Foreign Secretary and the Development Secretary met with Aung San Suu Kyi today to discuss democratic progress and human rights in Burma.
Following the meeting the Foreign Secretary, William Hague said:
It is an honour to receive Aung San Suu Kyi here following her historic visit last year. Since then we have seen real progress in Burma and it is vital that this continues. The Prime Minister and I agree with Aung San Suu Kyi that changing the constitution will be vital for Burma's reforms, in order that the elections in 2015 can be fully democratic. The Burmese people must be free to choose their future leader.
In London and Belfast on 23 and 24 October, Aung San Suu Kyi will meet figures from all sides of the Northern Ireland peace process to consider how lessons could be applied to ethnic reconciliation in Burma. The UK is funding experts with peace process experience to support the Burmese government and ethnic groups in their efforts to resolve the conflict between them. We are also sending serving British police officers to an EU project, to provide police training to their Burmese counterparts in dealing with intercommunal violence.
On 25 October Aung San Suu Kyi will visit Royal Military Academy Sandhurst to observe officer cadets training and deliver a speech to them.
Defence Secretary Philip Hammond said:
The focus of our future defence engagement with Burma will be on the creation of modern armed forces, subject to democratic accountability and compliance with international law.
I am delighted to see that Aung San Suu Kyi has chosen to look at the Royal Military Academy Sandhurst as an example of how to train professional soldiers to cope with the many challenges we face in the modern world.
The Department of International Development continues to support a variety of projects in Burma.
International Development Secretary Justine Greening said:
Responsible investment can help transform the lives of people in Burma. We are providing funding and support to help companies to do business in a way that lifts people out of poverty.
DFID has committed over £50 million this year to promote investment in Burma, improve health and education, and help end aid dependency through jobs.
Further information
Follow the Foreign Secretary on facebook and on twitter: @WilliamJHague.
Follow the Foreign Office on twitter.
Follow the Foreign Office on facebook & google+.
Published 23 October 2013