Psychoactive substances ban 6 months on: almost 500 arrests and first convictions
Nearly 500 people have been arrested since the government's landmark Psychoactive Substances Act came into force 6 months ago.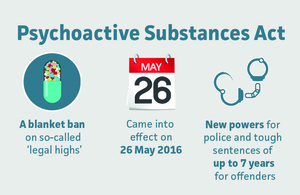 The first offenders have been jailed under the new powers, which were introduced to tackle the menace of so-called legal highs – with more cases currently progressing through the criminal justice system.
Police are also continuing to tackle retailers. Since 26 May 2016, when the act came into force, they have stopped 332 shops across the UK from selling the substances, formerly referred to as "legal highs", and 31 headshops have closed down.
Minister for Vulnerability, Safeguarding and Countering Extremism Sarah Newton said:
We banned new psychoactive substances because they are not safe, they can devastate lives and we will not tolerate them in this country. I am pleased to see the police making full use of the new powers, arresting dealers and ensuring they are punished with prison sentences which reflect the seriousness of this crime.

At the same time as supporting law enforcement in tackling the supply of illegal drugs, we are also taking action to prevent the harms caused by their use – from educating young people about the risks to helping dependent individuals through treatment.
In 2015 alone, new psychoactive substances were involved in 204 deaths in the UK, an increase of 25% from 163 deaths in 2014.
National Police Chiefs' Council Lead for Psychoactive Substances, Commander Simon Bray, said:
The Psychoactive Substances Act fundamentally changed the way the police tackle the supply and distribution of these dangerous drugs. Across the country officers are using the full range of powers to enforce the law and the figures released today highlight their commitment to reducing the availability of these harmful substances.

I am confident that together, with education, local authorities and other enforcement agencies, we can continue to disrupt the supply and accessibility of these drugs and prevent the damage they can cause.
The Psychoactive Substances Act has so far seen 4 people sent to prison, with other cases still being progressed through the criminal justice system.
William Cook, 29, of Fernan Dell, Crownhill, was caught in possession of hundreds of canisters of nitrous oxide and balloons at the Electric Daisy Carnival in Milton Keynes in July 2016.
He was sentenced to 42 months in prison for possession with intent to supply in September.
Penalties for offenders and powers for law enforcement include:
up to 7 years in prison for the supply, production, possession with intent to supply, importation or exportation of a psychoactive substance
up to 2 years in prison for possessing a psychoactive substance in a custodial institution; and prohibition and premise orders which will allow police to shut down headshops and online dealers, with up to 2 years in prison for those who fail to comply
Published 29 December 2016