Press release
PM meeting with Prime Minister Abe: 5 May 2016
The Prime Minister, David Cameron, welcomed Japanese Prime Minister Shinzō Abe to Chequers for discussions on global security issues.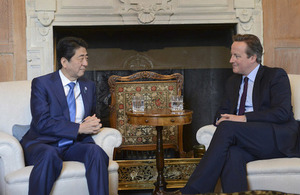 A Downing Street spokesperson said:
The Prime Minister held bilateral talks with Japanese Prime Minister Shinzō Abe at Chequers this evening.

The talks focussed on global security issues, and how to take forward bilateral co-operation to tackle the many shared security challenges we face. The Prime Minister said Japan was our closest security partner in Asia.

On Syria, they discussed the importance of all sides abiding by the renewed Cessation of Hostilities, particularly to prevent a recurrence of the unacceptable violence in Aleppo. They also agreed on the importance of all sides continuing to work together at the UN Security Council to improve humanitarian access to besieged and hard-to-reach Syrian towns and villages.

They discussed the importance of Russia recognising the need for an inclusive, representative Syrian government to ultimately defeat Daesh and reduce the threat of terrorism and extremism.

On Ukraine, they agreed Russia should be encouraged to behave responsibly, and to create the conditions for the Minsk agreement to be implemented in full and as quickly as possible.

They discussed China and the importance of engaging with their G20 Presidency. There would be a range of priority economic issues to address at both the G7 and G20, including encouraging structural reforms and tackling problems such as global excess capacity.

Finally, they discussed North Korea, agreeing it would be important to see the latest robust UN Security Council measures implemented swiftly and by all parties.
Published 5 May 2016