News story
Outcomes of the COP19 international talks on climate change
Statement by Edward Davey, Secretary of State for Energy and Climate Change, on the outcomes of the COP 19, Warsaw, Poland.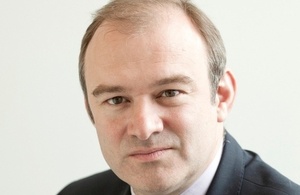 On the COP 19 international talks on climate change, Edward Davey said:
"The UK's key objective for the Warsaw climate change talks has been met. All nations have now agreed to start their homework to prepare for a global climate change deal in 2015. The world now has a work programme, with timetables. While the long negotiations in Poland showed there are many tough talks ahead of us, the determined diplomacy of the UK and EU achieved our aims, building alliances with our friends across the world.
"From a new rulebook and finance to strengthen our work to tackle deforestation around the world to a vital new package on measuring, reporting and verifying emissions, this was a conference that dealt with the nuts and bolts for the global agreement we believe is possible in 2015.
"By announcing the UK was joining the United States in their policy of ending support for public financing of new coal-fired power plants overseas, combined with our extra help for some of the world's poorest to adapt to the climate change that is already seriously affecting many communities, the UK continued its strong record of leading on climate change action."
Published 24 November 2013