Press release
UK urges the world to prepare for action on climate change and puts brakes on coal fired power plants
All nations at this week's international climate change talks, must leave Warsaw with a clear political understanding that a new global climate deal will be agreed in 2015.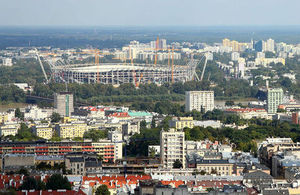 All nations at this week's international climate change talks must leave Warsaw with a clear political understanding that a new global climate deal will be agreed in 2015, UK Energy and Climate Change Secretary Edward Davey told the conference today.
Mr Davey said:
"This week in Warsaw is absolutely critical to getting a climate deal in 2015. No one should leave this conference without the clear understanding and agreement that from here, we must make sure that when we arrive in Paris in 2015 we are ready to strike a deal.
"The UK will be working as part of the EU, to gain momentum for a deal with a push for 50% reduction in European emissions. But we will need to see similar ambitions and commitment from other developed and emerging partners before we can sign".
Mr Davey also announced that the UK will join the United States in agreeing to end support for public financing of new coal-fired power plants overseas, except in rare circumstances in which the poorest countries have no feasible alternative. The two governments will work together to secure the support of other countries and Multilateral Development Banks to adopt similar policies.
Mr Davey said:
"It is completely illogical for countries like the UK and the US to be decarbonising our own energy sectors while paying for coal-fired power plants to be built in other countries.
"It undermines global efforts to prevent dangerous climate change and stores up a future financial time bomb for those countries who would have to undo their reliance on coal-fired generation in the decades ahead, as we are having to do today."
"Like the US, the UK recognises that there will be exceptions. We need to take account of new technologies such as Carbon Capture Storage and the very poorest countries where there are no alternatives. But many developing countries will soon find solar and similar energy technologies will become cheaper not just cleaner".
Recognising the increasing impact of climate change on the world's poorest countries, Mr Davey has also pledged £50 million from the UK's International Climate Fund to help more than 860,000 people adapt to those impacts. He called on developed countries to scale up their climate finance commitments.
Mr Davey continued:
"The most vulnerable countries are already feeling the impact of climate change and we know that is going to increase. As we have seen extreme weather events can have disastrous consequences for millions people in developing countries and we have a moral duty to help those countries prepare today for the climate changes ahead."
"Our climate change challenge is both to help prevent further damaging climate change, but also to help the poorest people from the effects of climate change that is already happening. This funding to help people adapt to our harsher climate conditions and this is a vital part of tackling poverty worldwide".
Through this funding 25 more projects in the least developed countries will better protect people from climate impacts by providing grants to vulnerable communities to help them improve water management, irrigation and water supply infrastructure; invest in flood protection and drought resistant crops, and develop better weather forecasting and early warning systems.
Notes to Editors
On Coal fired power stations
In order to avoid dangerous climate change, it is estimated by the International Energy Agency that global coal demand will need to fall by 45% from 2009 levels by 2050.
The UK Government will only consider MDB proposals for financing coal-fired power plants in the world's poorest countries where no other economically feasible alternative exists. We will consider these on a case-by-case basis, and only when all of the following conditions are met:

The country is an IDA-only eligible country, where Gross National Income per capita is below $1,945.
There is a compelling poverty reduction case.
Full consideration has been given to the economic feasibility of low carbon alternatives.
It is part of a credible low carbon development pathway, and meets environmental and social standards.
There is a risk assessment of long term financial viability.
The investment will use best available technology.
An assessment has been carried out of the technical, economic and financial feasibility of building the coal-fired power plant as CCS ready.
The UK Government would also be prepared to support MDB proposals for financing the additional costs of facilities fully deploying carbon capture and storage technologies.
These conditions will be used to guide UK assessment of coal-fired power projects developed by the MDBs. They will therefore inform UK views on board level decision making at the MDBs, including where we are part of a constituency with other countries. They will guide the UK Government's future interactions with MDB staff on project development. We will also promote these criteria with other countries, as the basis for decision-making.
This statement applies to all UK Official Development Assistance, and includes the CDC (the UK's Development Finance Institution).
UK Export Finance (UKEF) is not presently legally able to discriminate between classes or types of exports, but UKEF will normally refuse support for projects that do not meet international environmental standards, principally those of the World Bank Group (International Finance Corporation 'Performance Standards'). UKEF has not supported a coal fired power station overseas since 2002.
In making this announcement, the UK joins the significant actions already taken by others including:

The US: in June, 2013, President Obama announced his Climate Action Plan that included a commitment to mobilise clean energy investments to the developing world and help "accelerate their transition to a green, low carbon economy." To that end, the President called for an end to U.S. government support for public financing of new coal plants overseas except for the most efficient coal technology available in the world's poorest countries in cases where no other economically feasible alternative exists or facilities deploying Carbon Capture and Sequestration technologies.
The World Bank: during July, 2013, the World Bank's Board agreed to a new energy strategy to limit the financing of coal-fired power plants to "rare circumstances," as it seeks to address the impact of climate change. As such, it has been reported that the World Bank will amend its lending policies for new coal-fired power projects, restricting financial support to countries that have "no feasible alternatives" to coal, as it seeks to balance environmental efforts with the energy needs of poor countries.
The European Investment Bank: in late July, 2013, the European Investment Bank announced a new Emissions Performance Standard to be applied to all fossil fuel generation projects. A provision of the new standard states that new and refurbished coal-fired power plants will be ineligible for funding unless they emit less than 550 grams of carbon dioxide per kilowatt-hour (gCO2/KWh), a threshold that could be met either by a combined heat and power plant or one that also burns biomass.
Denmark, Finland, Iceland, Norway, Sweden: in September, 2013, the leaders of Denmark, Republic of Finland, Republic of Iceland, Kingdom of Norway, Kingdom of Sweden, and the United States of America issued a Joint Statement that included the following commitment:

"As part of our commitment to accelerating the transition to low-carbon energy systems worldwide, the leaders of Denmark, Finland, Iceland, Norway, and Sweden will join the United States in ending public financing for new coal-fired power plants overseas, except in rare circumstances. We will work together to secure the support of other countries and multilateral development banks to adopt similar policies."
On LDC funding
The UK is making a £50 million contribution to the Least Developed Countries Fund (LDCF) to help some of the world's most vulnerable people adapt to the impacts of climate change.
Over 800,000 of the poorest and most climate vulnerable people in sub-Saharan Africa and developing countries across the world will receive extra support directly as a result of Britain's help. UK funds will pay for 25 more projects in the least developed countries, such as Bhutan, where an existing LDCF project is working to reduce the hazards of Glacial Lake Outburst Floods or in Guinea Bissau, where an LDCF project is working with farmers and community members to establish cereal and seed bank facilities and helping them reduce their exposure to climate risks.
The Fund will provide grants to climate vulnerable communities helping them improve water management; invest in flood protection and drought resistant crops; improve irrigation and water supply infrastructure and weather forecasting and early warning systems.
LDCF programmes are focused on the most vulnerable, with a particular focus on agriculture and women - who bear a disproportionate burden from extreme weather events. For example; in Bangladesh, of the 140,000 people who died in Cyclone Gorky in 1991, women outnumbered men by 14:1 (World Bank (2011b) Making Women's Voices Count: Integrating Gender Issues in Disaster Risk Management, Operational Guidance Notes. Washington, DC: The World Bank, East Asia and Pacific Region.)
Published 20 November 2013