Norway, UK and USA come together to pledge approximately $280 million to sustain the world's forests
International partners announce fresh action to protect forests and reduce green house gas (GHG) emissions at COP 19 in Warsaw.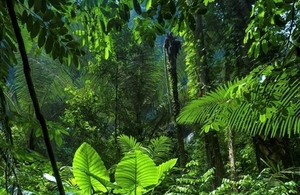 Key international partners came together today to announce fresh action to protect forests and reduce Green House Gas (GHG) emissions via the Reducing Emissions from Deforestation and forest Degradation (REDD +) at COP 19 in Warsaw.
Working with the World Bank, the Kingdom of Norway, the United Kingdom and the United States all announced significant resources for a new initiative called 'BioCarbon Fund Initiative for Sustainable Forest Landscapes' which is a joint public-private partnership established to help to combat the loss of the world's forests with the aim to significantly reduce emissions from deforestation and forest degradation before 2020.
UK Secretary of State for Energy and Climate Change Edward Davey said:
"Our global forests are the lungs of the world, and protecting them is fundamental for our survival. When we hand these forests over to future generations, we must be able to say we exercised our stewardship wisely and responsibly.
"This century, tree cover the size of Greenland has been destroyed by logging, fire, disease and storms. We have the opportunity now to pull forests back from the brink – reducing emissions and safeguarding the wildlife, agriculture and other livelihoods that depend on the forests. We must not let that opportunity pass us by."
Norwegian Minister for Climate and the Environment Tine Sundtoft said:
"This initiative is needed in order to demonstrate REDD+ results that are large scale taking a cross-sectorial approach and allowing for different social, political and administrative circumstances. In addition, we believe that a combination of public and private initiatives can produce exiting results."
US Secretary of State John Kerry said:
"The Initiative for Sustainable Forest Landscapes is a critical new tool to help us meet our responsibilities to future generations. It will help countries move forward on REDD+ and continue to make progress on sustainable land use practices. The United States stands with willing partners in the fight against global climate change and I look forward to continuing our work together to ensure a more secure future, not only for forested countries but for the entire planet that we share."
World Bank Vice President for Sustainable Development Rachel Kyte said:
"The fate of the climate, forests and agriculture are bound together. If agriculture and land use change continue to produce up to 30 per cent of global greenhouse gases, this will mean further disaster and disruption from climate change"
"That's why the new BioCarbon Fund Initiative for Sustainable Forest Landscapes is so important. Its grants and results based financing aim to reduce greenhouse gas emissions from the land sector, through REDD+, climate smart agriculture practices and land use planning."
Paul Polman, CEO of Unilever, said:
"This is exactly the type of initiative that we are delighted to support. We need to find new forms of public private partnership to address global challenges such as deforestation. Multilaterals like the World Bank play a critical role in catalysing these new business models and Unilever is interested to learn how we can participate and partner with the Bio Carbon Fund."
Christine McGrath, Vice President of External Affairs, Mondelēz International, said:
"We are looking forward to working with the World Bank to determine how the BioCF Initiative for Sustainable Forest Landscapes can help contribute to our strategy for sourcing key commodities such as coffee and palm oil from regions where tropical forests are protected.
Alfred Evans, head of Bunge Environmental Markets and CEO of Climate Change Capital said:
"Bunge is pleased to join the World Bank in discussing the formation of the BioCarbon Fund Initiative for Sustainable Forest Landscapes, a groundbreaking initiative. The BioCF is a fresh way to address the issues surrounding land use and climate change in an integrated manner. A challenge of this complexity and scale cannot be addressed by any single actor or sector. This new form of engagement between the public and private sector would be of benefit to all stakeholders. In particular, BioCF will help the commodity industry respond to the growing attention consumers and producers place on sustainability in food supply chains. "
This public-private partnership will support countries to help advance their implementation of REDD+, while providing the food, feed, fibre and fuels on which all depend, and protecting biodiversity and livelihoods. Norway (up to $135m), the UK ($120 million) and the US ($25m) plan to support this initiative in its first year; additional partners are expected to join.
Notes to editors
More information is available on the World Bank website

The US Secretary of State John Kerry's video statement
The BioCarbon Fund Initiative for Sustainable Forest Landscapes (ISFL) is a new multilateral initiative, supported by donor governments and managed by the World Bank's BioCarbon Fund. It seeks to reduce greenhouse gas emissions from the land sector, including from deforestation and forest degradation in developing countries (REDD+) and, as well as support more sustainable agriculture, through a combination of incentives and support smarter land-use planning, policies and practices.

The loss of forests, particularly in the tropics, remains a fundamental global challenge.

Global greenhouse gas emissions from land use account for nearly one-third of the global total, with most of these emissions coming from the loss of tropical forests and carbon-rich peatlands.

Over a billion people worldwide work in agriculture and their products provide a major source of income for farmers, communities, and national governments.

The ISFL will work to incentivize pathways of development, especially at the forest frontier so that alternative models of economically-sustainable development emerge to replace existing practices and policies that drive deforestation.

Agriculture is estimated to be the proximate driver for around 80% of deforestation worldwide. Commercial agriculture is the most important driver of deforestation in Latin America (around 2/3 of total deforested area). In Africa and (sub) tropical Asia, commercial and subsistence agriculture together are responsible for 2/3 of deforestation, both of similar importance. At the same time, agricultural expansion is key to poverty reduction and shared prosperity.
Published 20 November 2013