Press release
Minister for Europe hosts Balance of Competences event
The Minister for Europe yesterday launched the second round of consultations on the Balance of Competences review and invites contributions.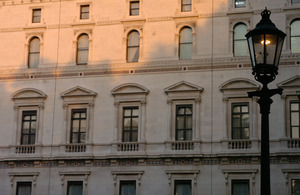 Calls for evidence for reports in the second round of consultations in the Government's Balance of Competences Review opened last week. The first reports are due to be published this summer.
The Minister for Europe, David Lidington, has been talking to representatives from business, think tanks, academia, and civil society about their views on what EU membership means for Britain.
Speaking at yesterday's event at the Foreign Office, Mr Lidington, said:
After forty years of EU membership, now is the right time to take a rigorous but constructive look at how our relationship with the EU impacts on our national interest.

As part of this, we want to hear from you. We want to hear from small and medium enterprises, from businesses and industry, from think tanks and civil society organisations, and from those in academia, about how EU membership impacts you. The Balance of Competences Review is a vital opportunity for you to make sure that your views are heard as part of what is the most extensive objective and evidence based analysis of our relationship with the EU ever undertaken.
More than 100 people attended yesterday's event, which marks the beginning of an extensive period of consultation on the nine areas being considered in the second round of the review. Attendees from organisations including Federation of Small Businesses, Rolls Royce, British Medical Association, Pfizer and Open Europe heard from the Minister for Europe about the important contribution that the review will make to the wider debate on EU reform and had the opportunity to speak with senior officials working on each report. Individual departments will then follow this up with their own events.
Helen Dickinson, Director General, British Retail Consortium said:
The debate about the UK's relationship with Europe needs to be based upon facts and a rational assessment of the evidence. The Balance of Competencies exercise provides a tailor-made opportunity for businesses and other interested parties to submit their evidence and their views on this crucial issue.
One senior representative from BT said:
I think it is really important for businesses and others to make their views known to Government on the review over the next year or more. We offered some broad views in the first round of dialogue, but now the work will dig deeper into specific issues and sectors
The nine second semester reports will cover the Internal Market: Free movement of goods (HM Revenue & Customs); Internal Market: Free movement of persons (Home Office); Asylum and Immigration (Home Office); Trade and Investment (Department for Business, Innovation and Skills); Environment and Climate Change (Department for Environment, Food and Rural Affairs); Transport (Department for Transport); Research and Development (Department for Business, Innovation and Skills); Tourism, Culture and Sport (Department for Culture, Media and Sport); Civil Justice (Ministry of Justice).
The Balance of Competencies Review is a two-year process, taking place between autumn 2012 and autumn 2014. Thirty-two individual reports covering all areas of EU competence are due to be completed over four semesters. The first six reports will be published in summer 2013. Departments are gathering evidence now for the nine reports being produced in the second semester.
The deadline for evidence submission for the second semester reports is early August 2013.
Further information
Find out more about the Balance of Competences or join in the conversation on twitter using #BOCReview
Follow the Foreign Office on twitter @foreignoffice
Follow the Foreign Office on facebook and Google+
Subscribe to the announcements feed or email alerts to get our latest news and announcements
Published 21 May 2013