News story
Human Rights Minister visits Geneva
Baroness Anelay makes second visit to the Human Rights Council in Geneva and discusses key UN human rights priorities.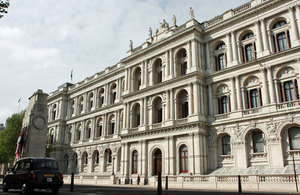 On 2 and 3 March, Baroness Anelay, Foreign Office Minister with responsibility for the United Nations and Human Rights, visited Geneva for the March Human Rights Council. She delivered the UK address, drawing attention to UK efforts to tackle modern day slavery, as well as highlighting serious human rights concerns following Russia's illegal annexation of Crimea and the destabilisation of east Ukraine. She reiterated UK human rights concerns in Syria, Libya, North Korea, Iran and Burma.
Baroness Anelay met the UN High Commissioner for Human Rights, Prince Zeid Bin Ra'ad Al Hussein, to discuss key UN human rights priorities. Meetings with the World Health Organisation Director General Dr Margaret Chan and with Peter Maurer, President of the International Committee of the Red Cross, provided opportunities to advance UK human rights priorities. Baroness Anelay also addressed the Conference on Disarmament.
The 28th session of the Human Rights Council started on 2 March and will run until 27 March. While in Geneva, Baroness Anelay hosted an event to celebrate the 800th anniversary of Magna Carta, and all that it represents in terms of British democracy, the rule of law and human rights. A replica of Magna Carta was presented to Michael Møller, Director General, United Nations at Geneva, making it available for thousands of visitors and UN diplomats to see each year, including during the UN70 celebrations later this year.
The visit concluded with Baroness Anelay meeting representatives of British businesses and automobile manufacturers at Geneva's annual International Motor Show. She discussed the positive impact of growing UK car sales on British employment, and the importance of apprenticeship schemes run by many manufacturers. The UK is currently the third largest car producer in Europe.
Baroness Anelay said:
This January, the UK marked its first year as a re-elected member of the Human Rights Council - something that is both an honour and a great responsibility.

Advancing human rights internationally is a long standing British commitment. My attendance at the HRC is part of that tradition. I strongly believe that the international system must give a voice to those whose rights are undermined and violated, and that we must be tireless in our efforts, working with the UN and our partners, to promote and protect human rights.

It was fantastic to host an event to celebrate the anniversary of Magna Carta with so many young people. Learning about the foundations of our democracy is essential for tomorrow's guardians of international freedoms.
Further information
Follow Foreign Office Minister Baroness Anelay on twitter @JoyceAnelay
Follow the Foreign Office on twitter @foreignoffice
Follow the Foreign Office on facebook and Google+
Published 4 March 2015