Press release
Government funds NUS competition to get students to #RegistertoVote
Government invests £530,000 to encourage students to register to vote, the latest in a series of measures to maximise student registration.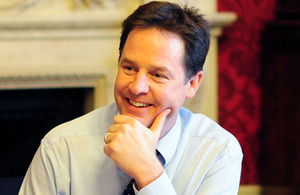 The government is investing £530,000 to encourage students to register to vote, the latest in a series of measures in this Parliament to maximise student registration.
A national competition for student unions to find the best ideas to get students to register to vote will be run by the National Union of Students (NUS), and there will also be funding to boost campaigns to ensure every student has the information they need to register.
The NUS will receive £380,000, with the remaining £150,000 being divided between organisations in the further education sector.
The NUS campaign launches today (Tuesday), using a number of innovative approaches to get as many students to register to vote as possible.
A national competition involving the nation's 600 student unions will look for the best ideas to get their students to vote. The best ideas will receive up to £10,000 to fund events or other projects proposed by unions around the country.
There will also be a variety of opportunities for students themselves to get involved in boosting registration among their peers, including recruiting volunteers to knock on doors and invite them to apply to be on the Electoral Register.
In addition, the NUS will receive extra funding to use its online and digital communication channels to encourage their members to register through newsletters, online adverts and videos.
In addition to the work of the NUS with university students, young people in further education – that is, 16- to 19-year olds – will also be targeted by funding to the Sixth Form Colleges Association, the campaign group Active Citizens FE and the National Association of Managers of Student Services. These organisations will speak directly to young people in schools and further education colleges, including through using the government's Rock Enrol! learning resources.
The Deputy Prime Minister said:
This year will be the first time many students get to vote in a general election. Like going to university, it's a vital rite of passage that I believe everyone should be proud to be part of. But to have your say, you have to register. You may already be registered at your parents' address, but if you want to vote in the constituency where you study, you will have to register there.

It only takes a few minutes with our new online system, and I am delighted that the NUS and other student organisations will be working with us to make sure everyone has the opportunity to get on the register and take part.
Cabinet Office Minister Sam Gyimah said:
For me, a general election is the greatest display of democracy in action in the world. I don't want anybody from any walk of life, whether students, voters living overseas such as Forces personnel, or people from Black and Minority Ethnic communities, to find they aren't able to vote on 7 May.

That is why it is so important for the government to support the great work of organisations like the NUS, the Sixth form Colleges Association, Active Citizens FE and NAMSS in encouraging and informing our young people about voting and the democratic process.
The funding comes from a total of £10 million announced by the government in January to boost voter registration across the United Kingdom in a variety of groups among whom electoral registration rates are lower than the general population. £6.8 million is to be spent by local authorities, with the rest going to national campaigns targeting groups including students, young people, overseas voters and Armed Forces personnel.
Funding for student organisations is just one component of the work the Cabinet Office and partners like the Electoral Commission are delivering to help increase student registration.
New government guidance for local Electoral Registration Officers (EROs) allows them to use of data held by universities to confirm the identities of students applying to register. This means that even if students cannot include their National Insurance number, or if data held on different public databases doesn't match, they can still be confirmed on the register using the information they used to enrol at university.
The Cabinet Office established a Student Forum in 2013, comprising representatives of local authorities and the higher education sector. The forum has agreed a number of practical steps to increase student registration including improved provision of data from Universities to EROs to help them target students individually.
Ministers and the Electoral Commission have both written to vice chancellors encouraging them to work with EROs to maximise student registration and the Electoral Commission's awareness campaign for the general election will include a specific focus on reaching students.
Today's announcement forms part of the government's multi-year plan for funding the transition to Individual Electoral Registration (IER). Yesterday the government announced that it is providing an additional £20 million to Local Authorities in 2015 to 2016, in what is the latest round of funding to ensure that councils have the necessary funds to continue IER's successful delivery without having to dip into their existing council budgets. This builds on the £30 million provided since 2013 to 2014 and will be used by local authorities for activities such as canvassing and issuing letters and forms to electors.
Notes to editors
This announcement includes £530,000 for national organisations to encourage student voter registration, broken down as follows:
| | |
| --- | --- |
| Organisation | Funded amount |
| Active Citizens FE | £60,000 |
| National Association of Managers of Student Services | £60,000 |
| National Union of Students | £380,000 |
| Sixth Form Colleges Association | £30,000 |
Published 24 February 2015