Press release
Local authorities receive additional £20 million for voter registration
The additional £20 million from the government is part of the multi-year plan for the move to Individual Electoral Registration (IER).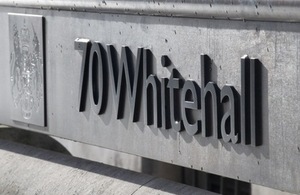 Minister for the Constitution, Sam Gyimah, today announced that, under IER, people are now required to register to vote individually, in a move that is increasing the accuracy of the register and giving people more control and ownership over the process.
The new system was successfully launched in June 2014, with 90% of electors automatically transferred to the new register without having to do anything. Since its launch, nearly 6 million people have registered to vote and over 2 thirds of these applications have come via the new online service makes registering easier than ever.
You can register to vote online now - it takes just 5 minutes.
The government has announced today that it is providing an additional £20 million to local authorities in 2015 to 2016. This latest round of funding is part of the programme's multi-year plan for funding the transition and will ensure that local councils have the necessary funds to continue IER's successful delivery without having to dip into their existing council budgets.
This builds on the £30 million provided since 2013 to 2014 and will be used by councils for activities such as canvassing and issuing letters and forms to electors. Crucially, these grants are not ring-fenced to ensure that local authorities have the flexibility they need to invest their funding creatively and efficiently at a regional level.
Minister for the Constitution Sam Gyimah said:
IER is bringing our electoral system into the 21st century by replacing the outdated 'head of household' concept with a system that puts citizens first. While we're only mid-way through this complex transition, it's great to see that it's currently being delivered on time and on budget.

We know that this is most significant change to our electoral system for decades and that's why this government has worked closely with a range of authorities and industry experts to ensure that we're giving local authorities all the funding they need.
The funding announced today is in addition to the more than £14 million provided to support the costs of activities at a local and national level to maximise the number of people on the register. Of this, up to £2.5 million is being used to fund activity, including working with national organisations to encourage groups who are not as well represented on the electoral register to sign up – such as black and minority ethnic (BME) communities and young people including students.
Published 24 February 2015