News story
G8 Deauville Partnership: Women's Economic Participation
Supporting open economies, inclusive growth and women's role in Arab countries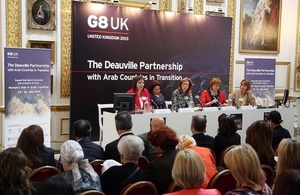 Under the UK's presidency of the G8 and chairmanship of the Deauville Partnership, the British government held a two-day conference in partnership with Baroness Symons of Vernham Dean, Chairman of the Arab British Chamber of Commerce.
UK Minister of Trade and Investment, Lord Green, the UK Secretary of State for DFID, Justine Greening and FCO Minister, Alistair Burt gave key speeches outlining how Arab business women are at the forefront of global markets. If encouraged, their business networks can play a greater role in promoting trade and creating jobs in the Middle East, North Africa (MENA), and elsewhere. Please see Justine Greening's keynote speech.
This message was endorsed by prominent G8 and MENA speakers from leading international organisations such as Islamic Development Bank, World Bank, European Bank for Reconstruction & Development and OECD, governments, businesses, investors, social enterprise representatives and civil society.
What we achieved through this conference
The event was the first of its kind to bring together private sector and government representatives from the G8, Arab Countries in Transition and regional partners (Kuwait, Qatar, Saudi Arabia, Turkey, and UAE) to:
Promote and raise the profile of the role of Arab women in the global and MENA economies
Debate how economic opportunities and business environments can be improved for women
Create new partnerships between businesses and professional women in transition countries, the G8 and regional partners
Participants in the conference agreed to a number of steps including:
Legal Taskforce:
A legal task force of experts will report to the Deauville leaders in the autumn on measures to tackle barriers to women's economic participation. This will build on existing work by the OECD, The World Bank and the EBRD and draw on expertise from private legal firms: DLA Piper, Norton Rose and Clifford Chance will participate.
DFID Challenge Fund:
During the keynote speech at the conference, Rt Hon Justine Greening announced an initial £4 million for an "Arab Women in business challenge fund" which will co-finance initiatives with the private sector to deliver new job opportunities, improve conditions of work and support regulatory reform to enhance women's role in the workplace. More information on the fund
For further information on the outcomes of the conference, please see the Conference Report (PDF, 548KB, 5 pages)
What happened at the conference
Information on the Panel Sessions (PDF, 206KB, 1 page)
A series of panel sessions held by experts in each area explored specific aspects of women's economic participation, including the various opportunities and challenges present. Sessions took place on:

Women in Open Economies and Inclusive Societies: women's economic participation in the region.

Promoting Women's Entrepreneurship and Leadership: experiences of starting and growing businesses, including the challenges faced and ways of overcoming barriers.

Arab Businesswomen in Global Supply Chains: how supply chains in the MENA region connect with global markets and how these partnerships can better support women from the region.

Financing Business Growth in MENA: what new and existing sources of financing are available to women in the region.

Gateways for Women into Trade and Investment: how women can engage in trade policy negotiations.

Creating a Workplace Where Women Can Thrive: An Agenda for Action, the policy changes required to overcome legal, social and structural challenges to create a fairer workplace for women.

Matchmaking workshops encouraged networking and business partnerships in innovative sectors such as financial services, the creative industries, health and education, technology, retail and tourism, and energy and infrastructure.
Case Study: Matchmaking Workshop on Creative Industries
A Business Awards event in the evening of the 26th June celebrated the immense contribution Arab women have made, and will inspire others to make, towards business and economic growth. The winners can be found here: Deauville Business Awards Event Winners (PDF, 212KB, 3 pages)
Women's Economic Empowerment and other Deauville and G8 activity
The UK, under its Presidency, is taking active steps to mainstream women's economic empowerment into all Deauville Partnership activities, in the following ways:
Partner governments will be encouraged to include equal participation from women in official delegations attending the event

Outcomes from the women's event will be discussed within the conference sessions

Participants at the women's event are being encouraged to register for the investment conference, to ensure linkages between both events
Women will be a priority target group for the 250 mentees selected from Arab Countries in Transition.
G8-BMENA Initiative
Additionally, the conference complements wider G8 activity directed at enhancing the participation and role of women in transition countries, including G8-BMENA work to promote women's empowerment.
Women's Economic Empowerment in the Middle East & North Africa
In June, Foreign Secretary, William Hague, invited questions from individuals in the MENA region on women's role in the economies of the Arab Countries in Transition through FaceBook, highlighting importance of integrating women more into the MENA and global economy.
Women's Economic Empowerment in the Middle East & North Africa
Published 3 September 2013