Press release
Foreign Secretary statement on 2013 UN Human Rights Day
Foreign Secretary marks UN Human Rights Day and commits to using the UK's Human Rights Council seat to uphold human rights for all.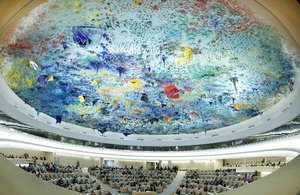 The Foreign Secretary, William Hague said:
Human Rights Day marks the anniversary of one of the great accomplishments of the last century, the Universal Declaration of Human Rights. It proclaimed a simple, powerful ideal: that all human beings are born free and equal in dignity and rights.
The sad death of Nelson Mandela reminds us again of the sacrifices that have been made by individuals and by nations to improve human rights in the world throughout our common history. Promoting human rights and democratic values is a central objective of UK foreign policy, as well as a crucial factor in ending conflict and building stability worldwide. It is because of this attachment to human rights that I have made campaigning to end sexual violence in conflict – one of the most neglected injustices in history – my personal priority.
In January the UK will again take its seat on the UN Human Rights Council. We will use our seat to continue to combat the rising tide of restrictions on the freedom of religion or belief worldwide, to promote women's rights and participation in peace processes, to work towards global abolition of the death penalty, and to focus on practical initiatives to prevent torture worldwide. We will also work to urge more states to take action to implement the UN Guiding Principles on Business and Human Rights, as we have in the UK by publishing our Action Plan earlier this year.
Above all we will strive to be a powerful example of a country that upholds human rights and fundamental freedom throughout every aspect of our diplomatic engagement overseas.
Further information
Follow the Foreign Secretary on twitter @WilliamJHague
Follow the FCO's human rights work on twitter @FCOhumanrights
Follow the Foreign Office on twitter @foreignoffice
Follow the Foreign Office on facebook and Google+
Published 10 December 2013
Last updated 10 December 2013
+ show all updates
Added translation
First published.