Doing business in Russia and Ukraine: Sanctions latest
Latest information for UK businesses on Russia and Ukraine, including the Crimea, following the introduction of further EU sanctions on 18 December 2014.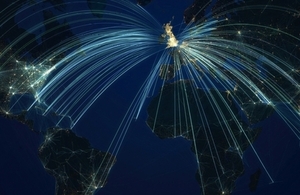 The European Union (EU) sanctions have been implemented in response to Russia's illegal annexation of Crimea and interventionist policies in eastern Ukraine. They have been closely coordinated with a wide range of international partners.
The UK government is keeping its economic engagement with Russia under close review. Some bilateral cooperation and trade support activity is being affected.
Decisions on any further diplomatic, political and economic measures will be taken in close collaboration with EU and G7 partners.
The UK government will continue to offer UK companies support and guidance. Commercial decisions are ultimately for companies to make themselves on the basis of commercial risk, bearing in mind increased risk that high profile business engagement might be exploited by Russia for political reasons.
UK companies who want more information on how the current situation may impact business in Russia or Ukraine should contact the Department for Business, Innovations & Skills (BIS) helpline on 0300 456 3565.
Sanctions
On 29 July 2014, the EU agreed to a significant package of measures to deter further destablisation of Ukraine by Russia. These were set out in a Council Decision and Council Regulation. They came into force on 1 August 2014.
On 5 September 2014, the EU agreed to build on this existing package of measures in a further Council Decision and Council Regulation. The extended measures came into force on 12 September 2014. The EU sanctions fall into 3 main areas:
financial sanctions against designated Russian banks, energy companies and defence companies
arms embargo and restrictions on certain dual purpose technologies, which although intended for civilian use, might have military application
restrictions on exports of high tech goods and services in the energy sector
These sanctions were further revised on 4 December 2014 via Council Decision 2014/842/CFSP and Council Regulation (EU) No 1290/2014 2014 (coming into force on 6 December 2014). These measures clarified the scope and application of certain provisions. The amendments can be seen in Notice to Exporters 2014/30 issued on 5 December 2014.
It is for UK companies to make their own commercial decisions as to how to pursue business outside these sanctions.
The Export Control Organisation (ECO) has issued several Notices to Exporters setting out the details of these measures.
Financial sanctions
These prevent 5 state owned Russian banks and their subsidiaries accessing EU primary and secondary capital markets. This means that these banks will be unable to purchase, sell, or receive brokering for new transferable securities. These include bonds, shares and money market instruments, such as treasury bills.
The EU has also prevented these targeted banks from accessing loans, another way to limit their access to financing. It has also limited their access to short-term financing by only permitting financing with a maturity of 30 days or less.
The package also extends these financial sanctions to other sectors. 3 entities in the oil sector and 3 defence companies now also have major restrictions on access to the EU's capital and debt markets.
Read Her Majesty's (HM) Treasury Financial sanctions notice.
Contact the HM Treasury financial sanctions helpline on 020 7270 5454 for questions on financial sanctions.
Arms and 'dual-technology'
There is an arms embargo, and a ban on the supply of dual-use goods to Russia for military end-users and for certain other named end-users in Russia. There is also a ban on the provision of technical or financial assistance for supply or sale of these goods.
The UK interprets the arms embargo to apply to all goods and technology on the Military List.
The restrictions on dual-use apply to all items in Annex 1 of Council Regulation 428/2009, except goods and technology intended for the:
aeronautics and space industry
maintenance and safety of existing civil nuclear capabilities within the EU.
Contact the ECO for further advice on 020 7215 4594.
Energy high tech goods
There are restrictions on the export of certain high-tech goods and associated services to Russia for:
deep water oil exploration and production
arctic oil exploration and production
shale oil projects
Asset bans and travel freezes
132 individuals and 28 entities have now been listed under sanctions applied in response to violations of Ukraine's sovereignty.
The sanctions apply to all funds and economic resources belonging to, owned, held or controlled by those persons, entities or bodies listed.
Read HM Treasury's guidance on the visa bans and asset freezes and their impact. The guidance includes an up to date list of all designated individuals and entities.
Other measures
The 16 July 2014 European Council agreed to:
suspend the financing of new projects in Russia by the European Investment Bank (EIB)
coordinate EU member states' positions within the European Bank for Reconstruction and Development (EBRD) with a view to suspension of the EBRD's financing of new projects in Russia
suspend, on a case-by-case basis, certain EU bilateral and regional cooperation programmes with Russia
Russian ban on imports of agricultural products
On 7 August, the Russian government imposed a year long ban on the import of certain agricultural commodities from the EU.
For further advice please contact the Department for Environment, Food & Rural Affairs (DEFRA) - Tel 01228 403 600.
Doing business in Crimea
The UK government maintain a strict policy of non-recognition with respect to Crimea / Sevastopol, in line with UN General Assembly Resolution 68/262. UK businesses should be mindful of the increased commercial risks created by this situation.
Following the EU Foreign Affairs Council of 23 June 2014 EU members agreed to:
prohibit the import of goods originating from Crimea and Sevastopol with the exception of those with certificates of origin granted by the government of Ukraine
prohibit direct or indirect financing, or financial assistance for the import of goods from Crimea and Sevastopol, as well as insurance and reinsurance related to such imports
In addition the EU Council agreed on 29 July 2014 to impose measures relating to the illegal annexation of Crimea. These measures imposed on EU citizens and businesses:
restrict investment in and export to Crimea
call on international financial institutions to refrain from financing any projects that explicitly or implicitly recognise the illegal annexation of Crimea and Sevastopol
ban investment in enterprises established in Crimea or Sevastopol engaged in the creation, acquisition or development of transport, telecommunications, energy infrastructure
ban the supply of certain equipment, technology and technical assistance, or investment, for oil, gas or mineral resources activity in Crimea or Sevastopol
apply to all new investments and not to existing investments or commitments in existing contracts until 28 October 2014
Read the details of the EU Council decision and EU regulation online.
On 18 December 2014, the EU imposed substantial additional sanctions on investment, services and trade with Crimea and Sevastopol in a further Council Decision and Council Regulation. The new measures introduced the following amendments:
a ban on acquiring real estate in Crimea or Sevastopol
a ban on providing services related to tourism activities, including in the maritime sector, in Crimea or Sevastopol
a ban on providing technical, brokering, construction, or engineering services directly relating to infrastructure in Crimea and Sevastopol
an extension of the existing ban on joint ventures and investment financing to cover any entity from Crimea or Sevastopol
an extension and revision of the list of goods banned for supply to Crimea or Sevastopol and for which the provision of brokering, technical or financial services is banned
Published 16 September 2014
Last updated 22 December 2014
+ show all updates
Update on new EU sanctions imposed on 18th December 2014.

Update on sanctions.

First published.

Updated links to EU Council decision.

New link to latest DEFRA guidance