News story
DFID Research: Keeping people, economies and potatoes healthy
An educational video looks at the work undertaken by the International Potato Centre in Lima, Peru.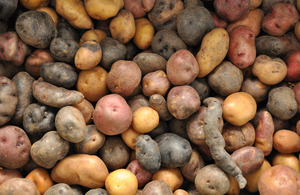 The American Museum of Natural History is currently holding an exhibition entitled Our Global Kitchen: Food, Nature, Culture. The exhibition aims to illustrate the complex journey of field to fork and looks at the role of humanity in shaping the food of the future.
The museum hosts AMNH.tv, which produces a series of science bulletins on a range of topics. As part of this exhibition, a new short film within this series profiles the work being done by the International Potato Centre (CIP) in Lima, Peru.
The film explains how CIP combines preservation of wild potato species with the development of new hardier varieties. It shows the work being undertaken in the gene bank as well as the monitoring of native varieties in the fields.
The potato is the third most important food crop in the world, providing more than a billion people with a staple food. High in energy, it is relatively easy and cheap to produce and does not require large areas of farmland.
However as climate change becomes an increasing reality, traditional varieties are under threat worldwide. With most of the existing 4,000 edible varieties being found in the Andes, CIP works in Lima to catalogue and preserve diversity.
In Peru and other highland areas this means developing improved potato varieties which can be grown in warmer temperatures. Climate change has already impacted on traditional farm sites in Lima, with farmers having to move their crops higher than the average 4,000 metres above sea level, due to rising temperatures.
Clearly farmers cannot keep moving crop sites indefinitely, so CIP is working to find varieties which perform well in these new temperatures.
However, potatoes are not only under threat in South America. CIP also works in Sub-Saharan Africa and South Asia. In Sub-Saharan areas, efforts are focused on developing and disseminating new varieties of tuber with higher nutritional value. Improved tuber varieties provide a means of combating vitamin A deficiency, for example in the recent deployment of the pro-vitamin A rich, orange-fleshed sweet potatoes.
With changing conditions come new temperatures, new levels of rainfall, drought and new forms of blight. CIP, through its research into existing varieties and by broadening crop varieties to include other tubers, aims to help communities on the ground adapt to these changes.
Potato Biodiversity—Ensuring the Future
By working with the farmers in the fields as well as working on species in the gene banks, CIP benefits from a two way dialogue which ensures that both deliberate and naturally occurring changes in existing potato types can be monitored and evaluated.
CIP is part of the CGIAR programme funded by the Department for International Development.
Published 17 May 2013