News story
Death of former Prime Minister Lady Thatcher
The Prime Minister David Cameron and the Foreign Secretary William Hague express their condolences.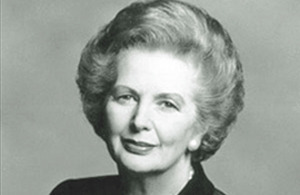 The Prime Minister David Cameron responded to the news that former Prime Minister Lady Thatcher has died:
It was with great sadness that I learned of the death of Lady Thatcher. We have lost a great leader, a great Prime Minister and a great Briton.
The Foreign Secretary William Hague gave his reaction to the death of Lady Thatcher:
She changed our country forever and all of us owe so much to her. A legacy few will ever equal. Rest in peace Margaret.
Speaking to media in Madrid today the Prime Minister David Cameron said:
Today is a truly sad day for our country. We've lost a great Prime Minister, a great leader, a great Briton. As our first woman Prime Minister Margaret Thatcher succeeded against all the odds, and the real thing about Margaret Thatcher is that she didn't just lead our country, she saved our country. I believe she'll go down as the greatest British peacetime Prime Minister.
Today most of all we should think of her family. We've lost somebody great in our public life but they've lost a much loved mother and grandmother and we should think of them today. Her legacy will be the fact that she served her country so well and that she saved our country, and that she showed immense courage in doing so, and people will be learning about what she did and her achievements in decades, probably centuries to come. That's her legacy, but today we must also think of her family.
Prime Minister David Cameron's statement from Downing Street following the death of Lady Thatcher.
View David Cameron's Statement on Lady Thatcher
Speaking to media today the Foreign Secretary William Hague said:
It is a very sad day of course for all of us who knew her and followed her. She was one of our finest leaders in the modern history of this country, one of our most remarkable politicians, one of the greatest spirits of this country as well.
She changed British politics, but she also changed things much more broadly than that, she gave real hope and inspiration to people behind the Iron Curtain in the 1980s. Her belief in freedom, in human rights really shone out across the world and, and gave enormous encouragement to people who had been living without political freedom for a long time.
Further Information
Lady Thatcher will receive a Ceremonial funeral with military honours
Condolence book on the Number 10 website
Published 8 April 2013
Last updated 10 April 2013
+ show all updates
Added translation
Added translation
First published.