News story
Attend a meeting of the highest decision-making body at the MMO
As a Non-Departmental Public Body, the MMO has a board of non-executives, chaired by Sir Bill Callaghan.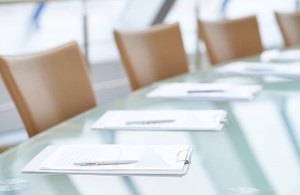 The board brings together a collective of experience and knowledge to support marine management and sustainable development. All members are committed to helping people understand our decision-making processes. Being transparent and interacting with a wide range of stakeholders are critical in the management of our seas.
The board would like to invite any member of the public to observe a board meeting held in Newcastle on Friday 26 February 2016 between 12:50pm and 3:30pm. If you would like to come along, all you need to do is contact us to book your place.
What you can expect on the day:
Board members will be joined by the MMO Chief Executive Officer John Tuckett and his team of directors who are responsible for the day-to-day management of the business.
Board members are: Bill Callaghan, Robert James, Derek Langslow, Nigel Reader, Jayne Scott, Robin Teverson and Andrew Wells.
Proceedings will start with opening remarks from the Chair, Sir Bill Callaghan, The board and senior leadership team will then discuss set agenda items. An agenda and timetable will be available from Friday 19 February 2016.
Refreshments will be provided and all attendees are expected to abide by a set protocols:
Attendees at MMO Board meetings are asked to observe the following protocols:
Open sessions of the Board will be held in public with adequate arrangements for the public to attend and to hear in reasonable numbers.
MMO is entitled to reserve the right not to admit members of the public who appear without advance notice in large numbers and the right to eject persons who disrupt meetings.
Members of the public have no right to participate in discussions, but may be allowed to do so at the Chair's discretion if they have given written notice in advance of their wish to do so and their participation is relevant and facilitates debate.
No cameras or recording equipment may be used without the approval of the Chair.
Book a place:
For further information, or to book your place, please contact Claire Scutt at claire.scutt@marinemanagement.org.uk to book your place.
Published 3 February 2016
Last updated 17 February 2016
+ show all updates
Time changed to 12:50pm to 15:30pm
First published.