Motorbikes and Midwives: A triple blessing
Find out how UKaid is helping Kenyan mothers get access to maternal health care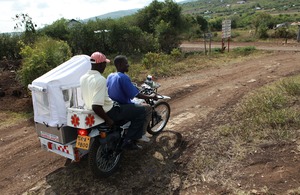 Like most mothers-to-be, 22-year-old Maureen Atieno Anyango was apprehensive when she went into labour. She had already undergone complicated pregnancies with her first 2 children, now 4 and 2 years old, and this time she was expecting triplets.
The nearest health centre is at Kenya's Mbita hospital, 40 kilometres from her home along a bumpy road. But luckily Maureen's family had heard of the motorcycle ambulance service that operates in the area and they quickly got in touch with them.
"When I developed labour pains, I feared seeking the services of traditional birth attendants, who people claim are unskilled and caused maternal deaths," she explains. 
"The hospital asked if we could pay Shs 150 (£1.20) for fuel and when we said yes the ambulance was released to come and get me." 
Ambulances and awareness
The 10 motorcycle ambulances are part of the Essential Health Services (EHS) programme, a maternal health scheme in Nyanza province.
Funded by UK aid from the Department for International Development, the programme focuses on 2 key areas. Firstly, it improves the supply of maternal and child health services through building clinics, supplying equipment and training and working with government staff to improve the management and supervision of services. Secondly, it addresses the demand for these services by raising community awareness, improving referral mechanisms with motorbike ambulances and creating new roles for retired midwives and traditional birth attendants.
Over a year ago the UKaid funded programme helped to build and equip the new maternity unit at the Mbita hospital where Maureen gave birth. The programme has also helped build a number of other maternal health centres in the surrounding area, including a new maternity unit at the Magunga clinic. You can find out more about this clinic by watching our Motorbikes and Midwives film.
Or view the photo gallery on Flickr to hear from women who have been treated at the centre. 
The EHS programme has shown that it's possible to increase access to maternal health services, even for women in remote areas. The number of deliveries at one of the centres has increased from 39 in 2006 to 182 in 2009 and the number of births attended by skilled health workers in the district has risen from 7% to 32% over the project period.
Nyanza province was originally chosen because its maternal health indicators were poorer than the national average, but Nyanza now exceeds the national average for deliveries attended by a skilled worker.
Healthy babies
After 6 hours at the Mbita hospital Maureen successfully delivered three healthy baby girls. Had the trained care and necessary equipment not been available, the fate of Maureen and her 3 daughters, Sharron, Shelly and Sheila, could have been very different.
Another set of triplets is expected to be delivered in the same clinic next month and the motorbike ambulance continues to make sure that women in remote, rural areas are able to receive the treatment they need.
Choice for women: wanted pregnancies, safe births
Over the next 8 weeks you can help us shape UK government policy on reproductive, maternal and newborn health in the developing world by taking part in DFID's public consultation, 'Choice for women: wanted pregnancies, safe births.'
We want to hear from people in the UK and around the wold, from mothers to midwives to members of the public. You can take a short ten minute survey, or post in-depth feedback in our 'Have your say' area. Together, we can make a difference to millions of lives.
Published 25 August 2010