River of hope: adapting to a changing climate in Mozambique
How UK aid is helping farming communities in Mozambique adapt to the effects of climate change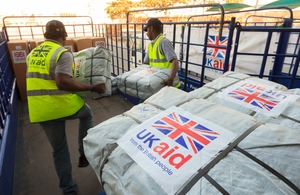 The Zambezi Floodplain Management programme, delivered by Save the Children and funded by UKaid from the Department for International Development (DFID), is helping farming communities in Mozambique adapt to the effects of climate change.
In the Zambezi valley of Mozambique, climate change has affected hundreds of thousands people, who largely depend on rain-fed subsistence agriculture to make a living. With funding from UKaid, Save the Children works with farming communities affected by recurring floods and drought to enhance their resilience to the impact of climate change.
In this video, Save the Children staff and beneficiaries share their experiences in adapting to climate change through projects - such as goat-rearing, fish-processing and irrigation - that are aimed at strengthening and diversifying people's livelihoods.
Published 29 November 2010