Case study
Rising above the stigma and scars - the story of an acid attack survivor in Pakistan
How UK aid is helping acid victims in Pakistan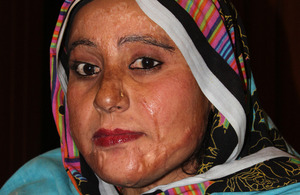 Nusrat, 30, hails from a remote village in Muzaffargarh, South Punjab. A little over 3 years ago, on 11 July 2009, her life changed forever.
As she prepared to go to her mother's house, Nusrat was subjected to a horrific acid attack by her husband, with the help of his family. She was forced to flee without her 3 children to Islamabad where she found refuge with the Acid Survivors Foundation (ASF).
In Pakistan, acid violence is spreading, with an increase in the number of incidents reported. 70% of the victims are women and girls. UK aid from the British government is supporting the ASF in Pakistan to tackle acid violence issues whilst raising awareness to eliminate acid violence in the country. The ASF works towards ensuring the best possible medical, legal and social reintegration support to the acid survivors.
Nusrat's story
What provoked this deplorable attack? Nusrat's brother had refused an attempted forced marriage to Nusrat's sister-in-law and her husband's family reacted very angrily. Nusrat did not foresee the extent her in-laws were willing to go to punish her.
At first she thought that they threw water on her, but then her face began to burn in searing pain and her burnt clothes began to peel away. Nusrat fled the room screaming. Her husband's family told the crowd gathering outside her home that she had burnt herself with the acid. For over an hour, Nusrat tried to ease the pain by splashing cold water on the burnt areas. When this did not help, her neighbours took her to Victoria Hospital, Bhawalpur. From there she was referred her to Nishtar Hospital, Multan, where she stayed for 2 months.
Despite the best efforts of the doctors, they couldn't heal the degree of excessive burns on Nusrat's body leaving her lonely, ostracized and afraid, until she was offered help by the ASF.
A new lease of life
Nusrat sought refuge with the Islamabad branch of the ASF six months after the incident. She has remained there since 2009. Ms. Irum, the resident physiologist at ASF said, "When Nusrat arrived at ASF, she had very frequent episodes of crying and sobbing. She would withdraw from everyone around her and repeatedly ask for her family."
As part of the rehabilitation process, the ASF provides the women with vocational training so that they can become increasingly self-sufficient as they progress in the healing process. An eager and fast learner, Nusrat has shown great aptitude for sewing.
"We are very lucky to have found a place like the Acid Survivors Foundation. We thank God every day. The people here have been very good to us. I've even got my first business order to sew fifty scarves for a Canadian company," says Nusrat.
Nusrat is a brave woman - she has overcome the injustice of her horrific attack and is making something of her life with plans to go into business stitching clothes.
Calling for legislation
Nusrat and other acid attack victims are currently campaigning with the ASF for the introduction of an Acid and Burn Crime Bill, backed by the UK government. Her call to action is for civil society, the international community and the government of Pakistan to come together on a single platform to agree the petition against acid crimes.
"I am supporting the cause because I want everyone to be safe. I don't want any person to feel what I felt, or experience what I have gone through. I support the Acid and Burn Crime Bill because it is a step to a better and safe environment where we can live without fear."
Nusrat is aware of many unreported acid attacks in her home village but with her mother's support, she reported the crime to the police. It wasn't easy for Nusrat's mother to shun the social stigma of reporting the crime but she has turned out be a trend setter for the village on women rights, with more families reporting crimes to the police since the attack.
Stats and facts
90% of the victims of acid attacks have faced a pre-existing form of violence that led to the acid attack.
Between 2007 and 2012, the Acid Survivors Foundation recorded 786 incidents out of which 62 victims have been provided legal aid thanks in part to UK aid.
Since 2008, DFID has provided support to the Acid Survivors Foundation in Pakistan through the Gender Justice Protection challenge fund.
UK support to the Acid Survivors Foundation has enabled wider lobbying efforts which have helped achieve advocacy and awareness raising, support to victims and legal aid as well as supporting the first of a 3 step legislation (Criminal Law Amendment, comprehensive Acid and Burn Crime Bill, Acid Control Bill).
Published 21 March 2013