Case study
Managing bullying in schools
How Derby Moor Community Sports College talks to pupils about, identifies and deals with bullying.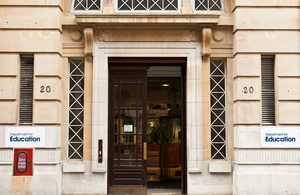 Derby Moor Community Sports College (Derby) is an inner-city secondary school for 11- to 18-year-olds, with an ethnically diverse intake that includes many students who have English as a second language. The proportion of students eligible for the pupil premium is above average. In December 2012, the school overall was rated by Ofsted as 'requires improvement', but was rated good in behaviour.
Friends 4 U club
The school works with the Diana Award to address bullying and now has over 100 anti-bullying ambassadors who implement and support anti-bullying work in the school. For example, the ambassadors host the Friends 4 U club, which gives pupils the opportunity to talk to peers about any bullying concerns. The club runs 3 lunchtimes each week and is well attended by 10 to 15 pupils each session.
The Friends 4 U club is organising a project called 'Derby Moor Wraps Up Anti-Bullying'. Students will make a big patchwork quilt with a positive message placed on each patch. The club also has a preventive focus, as issues can be resolved before they escalate into bullying.
Anti-bullying weeks
The school runs themed anti-bullying weeks to address specific bullying issues, including the fear of bullying, homophobic bullying and cyberbullying.
During the homophobic bullying week, pupils were taught about successful lesbian, gay, bisexual, and transgender (LGBT) people such as:
Dr Christian Jessen (doctor and television presenter)
Nicola Adams (boxer and Olympic gold medallist)
Nick Grimshaw (BBC Radio 1 DJ)
Scott Mills (BBC Radio 1 DJ)
These popular role models demonstrate that a person's sexuality is not a barrier to success and achievement. The school has also run a week that focused on the bullying of children and young people with special educational needs and/or disabilities, to raise awareness and dispel myths.
Reporting bullying
The school records:
what has happened
how the school found out about it
what actions the school took
what type of bullying it was
This information is used to develop relevant and targeted themes for the school's anti-bullying weeks. The school also monitors bullying through an annual questionnaire sent out to both pupils and parents.
Cyberbullying
The school has worked closely with the police to make pupils aware that cyberbullying is unacceptable and that some of this behaviour could be illegal. When the school identifies unacceptable online behaviour, a police officer comes in to speak with the pupils about the legal implications of their actions.
Pupils can be given a restorative punishment such as writing a letter of apology or attending a restorative detention. Restorative detentions include school-based community service sanctions such as litter-picking, weeding and cleaning graffiti.
Published 25 March 2014