Case study
Identifying bullying in schools
How Saint Benedict Academy identifies bullying through anonymous email reports.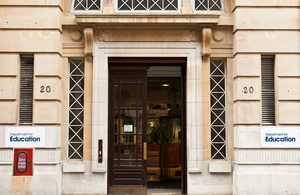 Saint Benedict Academy (Derby) is a Catholic school for 11- to 18-year-olds, that also welcomes pupils from other faiths. The school takes pupils from across the city resulting in a diverse socio-economic and ethnic mix. In November 2012, the school was rated by Ofsted as 'good' in behaviour.
'Hero' email to identify bullying
The school has introduced an email account, known as 'Hero', which both parents and pupils can use to raise concerns and report bullying. 'Hero' will always reply to the emails and the school will investigate the concerns raised. 'Hero' receives a couple of emails each week.
Raising awareness of bullying
The school runs assemblies to raise awareness of bullying and its impact. For example, a memorable assembly discussed cyberbullying. Pupils were told to empty a can of shaving foam into a bowl and then asked to put it all back into the can. Obviously they couldn't put it back in the can, and this visually demonstrated that once a comment or an image has been posted online it cannot be taken back.
Published 25 March 2014