Foreign travel advice
China
Summary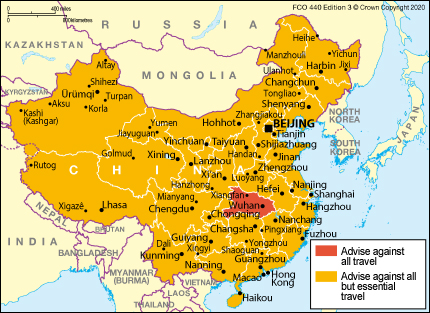 The Foreign and Commonwealth Office (FCO) advise against all travel to Hubei Province due to the ongoing novel coronavirus outbreak. The FCO advise against all but essential travel to the rest of mainland China (not including Hong Kong and Macao). The British Consulates-General in Wuhan and Chongqing are currently closed. If you're in China and able to leave, you should do so. The elderly and those with pre-existing medical conditions may be at heightened risk.
The Chinese authorities continue to impose further restrictions on movement within China in response to the coronavirus outbreak. These restrictions include the closure of some provincial highways and the cancellation of many inter-city rail services. Internal flights continue to operate at much reduced levels. Separately, there are tight controls on entry and exit to villages and townships across the country, and varying degrees of restriction on movement within every province, and individual cities and municipalities.
Additionally, various quarantine measures have been imposed across the country. Beijing requires those returning to the municipality to undergo 14 days of isolation in their place of residence or in group observation. Foreign nationals, provided they have been outside China more than 14 days and arrive into one of Beijing's two airports, should be exempted. Before you travel you should check with your travel operator or hotel for any changes or restrictions.
A large number of airlines, including British Airways and Virgin Atlantic, have announced a suspension of flights to and from mainland China. Other commercial airlines are still operating, but it may become harder to access departure options over the coming weeks.
A number of countries have announced restrictions on entry by travellers from China in response to the coronavirus outbreak. Given the fast-changing situation, you should check the latest FCO travel advice (including entry requirements) for your destination and anywhere you are transiting through, and check with your airline before you travel.
Since 31 January, some staff and dependants from the British Embassy and Consulates are being withdrawn. Essential staff needed to continue critical work, including consular assistance, will remain. British Consulates-General in Shanghai and Guangzhou will – for the immediate future – continue to provide essential travel documentary services to British nationals wishing to leave China (but no other consular assistance). The ability of the British Embassy and Consulates to provide face-to-face assistance to British nationals from within China is currently limited, and would be even more limited in the event that the situation deteriorates further. British nationals in China who need consular support should call +86 (0)10 8529 6600 or the FCO in London on +44 (0) 207 008 1500.
For further information on measures introduced by the Chinese authorities and health advice from Public Health England, see Health
You should always take out comprehensive travel and medical insurance before you travel.
British nationals normally need a visa to enter mainland China, including Hainan Island, but not Hong Kong or Macao. See Visas
The typhoon season in China normally runs from May to November. You should monitor the progress of approaching storms and follow the advice of the local authorities. See Natural disasters
Foreign nationals over the age of 16 must carry their passport at all times. See Local laws and customs
You must register your place of residence with the local Public Security Bureau within 24 hours of arrival. See Entry requirements
China has a zero tolerance policy on drugs. There are severe penalties for drugs-related offences including the death penalty. Police often raid bars and nightclubs checking for the use of illicit substances. Raids on private homes have also occurred. See Local laws and customs
Terrorists are likely to try to carry out attacks in China. Although foreigners haven't been specifically targeted, attacks may occur in places visited by foreigners. You should take particular care during national holidays or when transiting public transport hubs, and always follow the advice of the local authorities. Previous attacks have targeted public places including on one occasion at a railway station and an open air market in 2014. There have been no recent attacks in the main tourist areas. The risk is higher in the Xinjiang Uyghur Autonomous region. You should take particular care and remain vigilant when travelling to or within Xinjiang. See Terrorism
Don't attempt to travel to Tibet without getting the correct permits. The Tibetan Autonomous Region (TAR) can be closed to foreigners without notice. See Tibet and the Tibet Autonomous Region
Police have the power to detain or prevent you from leaving China if you're involved in or connected to a business and/or civil dispute. See Local laws and customs and Safety and security
In response to Coronavirus, the Hong Kong SAR Government has closed all border crossings with mainland China indefinitely, with the exception of the Shenzhen Bay Checkpoint and the Hong Kong-Zhuhai-Macau Bridge. All ferry crossings between Hong Kong and mainland China will cease. There has been a significant reduction in flights between mainland China and Hong Kong, though some flights are still operating.
In light of ongoing protests and demonstrations in Hong Kong, there are reports of greater scrutiny from mainland authorities at border crossings between the mainland and Hong Kong. This includes reports that travellers' electronic devices have been checked at border crossings. You should be aware that the thresholds for detention and prosecution in China differ from those in Hong Kong. See Local laws and customs and Safety and security
China doesn't recognise dual nationality. If you have both British and Chinese nationality you may be treated as a Chinese citizen by local authorities, even if you enter China on your British passport. If this is the case, the British Embassy may not be able to offer you consular assistance. The FCO has published guidance on nationality in China. If you've formally renounced Chinese citizenship, you should carry evidence that you have done so. See Local laws and customs
High levels of air pollution can occur in major urban and industrialised areas in China, and may aggravate bronchial, sinus or asthma conditions. Children, the elderly and those with pre-existing medical conditions may be especially affected. You can check the pollution index levels for many cities in real time. See Health
Territorial disputes between China and neighbouring countries have caused high regional tension. There have been anti-Japanese and anti-Korean demonstrations in several cities across China. See Political situation
If you're abroad and you need emergency help from the UK government, contact the nearest British embassy, consulate or high commission.
The Overseas Business Risk service offers information and advice for British companies operating overseas on how to manage political, economic, and business security-related risks.